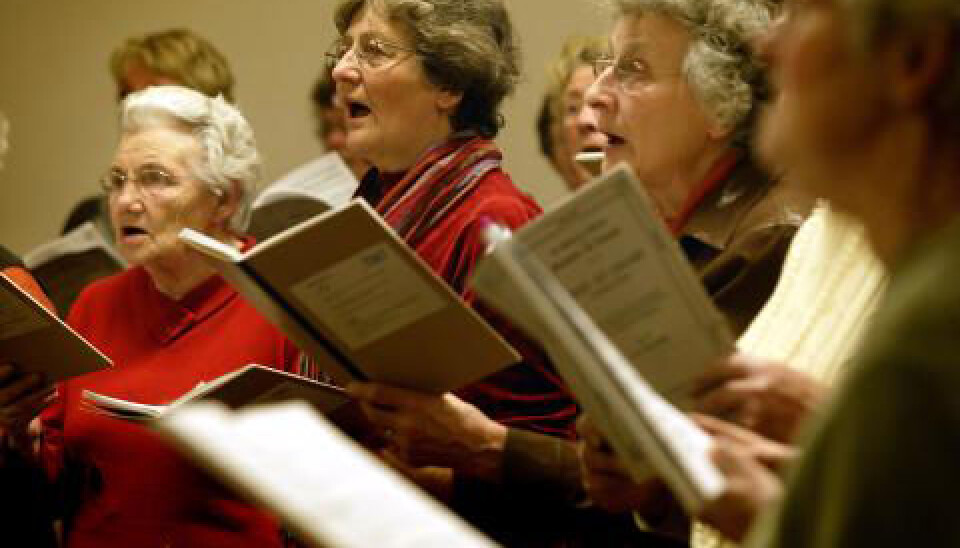 Choir members synch heart rates
When we sing in unison our bodies start to act as one.
This is not the first time researchers have found beneficial and intriguing effects of singing in a choir. Earlier this year a small study concluded that one hour of chorus practice appeared to reduce anxiety and supress negative emotions.
Other studies have revealed similarly efficacious results. Researchers at Sahlgrenska Academy in Gothenburg have gone a step further in exploring how singing in a group affects the singers physically and biologically.
Björn Vickhoff and his colleagues monitored the pulses of members of a choir while they sang the traditional hymn Härlig är Jorden. They discovered that the heart rates of all the singers became synchronized, increasing and decreasing in rhythm.
Breathing easier
The researchers point out that the phenomenon isn't hocus-pocus. The song changed and synchronised their respiratory patterns.
When we sing we breathe more slowly than normal. As the choir members were all singing the same piece, the chorus members generally inhaled and exhaled in synch.
Our respiration also affects the rhythm of our hearts.
When we exhale the vagus nerve – which runs from the brain to the heart – sends a message to slow down the heart and instructs it to speed up as we inhale.
"We already knew that choral singing synchronises the singers' muscular motion and the neural activity of much of the body. Now we know that this also applies largely to the heart," says the researcher according to eNow in a press release.
Vickhoff thinks this in turn can have an emotional impact on the group.
The vagus nerve is linked to our feelings. Thus the chorus members are emotionally affected simultaneously.
Song therapy
Such choir research is no esoteric, pointless exercise. According to Vickhoff the phenomenon can be used in treatment of patients and achieve a positive effect on group dynamics.
The researchers say that perhaps song can be used as an element in tranquilising patients prior to operations, for soothing pain and for rehabilitation. Choral song can also be used to bolster team spirit.
The next step in the research will be to determine whether choral singing creates a mental "us" perspective and can be thus used to create a beneficial and cooperative social climate.
-----------------------------------
Read the Norwegian version of this article at forskning.no
Translated by: Glenn Ostling
Scientific links
Related content