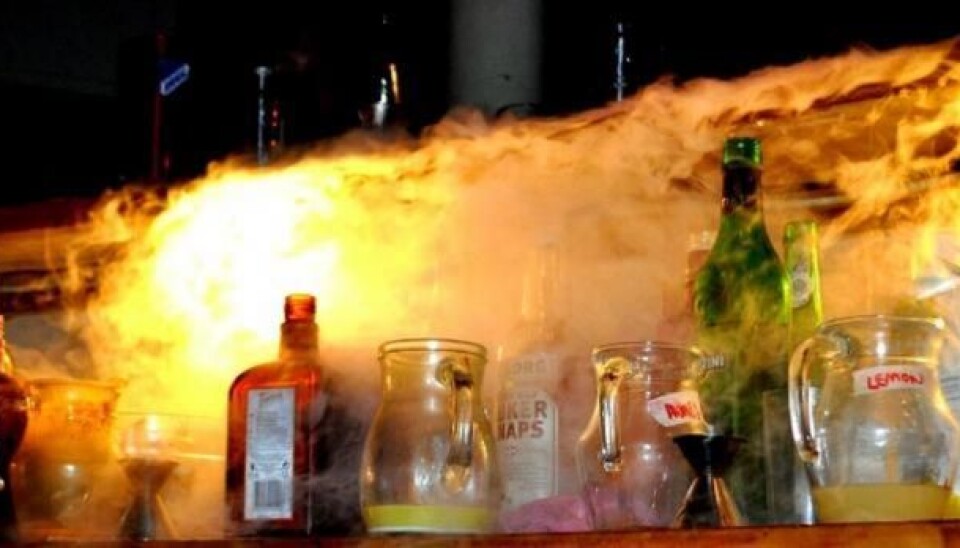 Science should be a part of our nightlife
Welcome to Science and Cocktails, a project that seeks to combine science with entertainment, after-work drinks, and music.
Science and Cocktails founder Jácome Armas discusses his brand of scicomm at Speakers Corner, FENS 2016. (Video: Kristian H. Nielsen/Science Nordic)
What are you doing this Friday night? After work drinks? Cinema? Perhaps a concert?
All of that sounds fun, but Jácome Armas, a theoretical physicist from the Université Libre de Bruxelles in Belgium, has another suggestion: Science and Cocktails.
After noticing that almost all out nocturnal activities involve drink of some kind Armas was keen for science to have a piece of the after-work entertainment pie. And so he embarked on the Science and Cocktails project, where talented scientists present on an exciting topic, accompanied by many of the other activities that we enjoy on a Friday evening.
"We use scientific inspiration for our cocktails--we have smoking dry ice and so on. We have music performances that follow the lectures, so we celebrate science as well as learning science," says Armas.
And there is no doubt that this approach works, with between 300 and 600 people queuing to attend each event.
Armas discussed the concept behind Science and Cocktails with ScienceNordic at Speakers Corner during the 2016 FENS Forum for Neuroscience, held in Copenhagen, Denmark.
Appetite for knowledge needs the right platform
There are many reasons why we should make science a larger part of the cultural offerings available to us during our down time.
"There's been a huge increase in scientific publications and this research has to be communicated. There's also an enormous interest [among] the public to hear about science research and findings," says Armas.
According to Armas, many people might not even know that they are interested in science, because they simply have not seen it presented in a way that appeals to them.
"If we create the platform, people come and they're interested," says Armas, and after-work entertainment provides the perfect opportunity.
And above all, scientists have a responsibility to share the outcome of taxpayer-funded research, he says.
After-work scicomm is 200 years old
There is nothing new in the idea of hosting an after-work science communication event.
In Denmark alone scientists have been disseminating science to the public as early as 1816, through a publication called 'Danne-Virke' and via the Society for the Dissemination of Natural Science in 1824, who hosted public lectures in physics and chemistry.
The concept behind events like Science and Cocktails is a modern day version of these past scicomm techniques and combining education with entertainment, says Armas.
"We have to move science out of the academic environment"
According to Armas, creating a nightlife culture around science means changing the academic nature of lectures.
"If I say 'Tomorrow I'm going to a nice lecture then I will meet my friends and then I will get drunk"—that must be ironic. The lecture must be really bad, right? This is what comes to mind," he says.
The word 'lecture' usually has negative connotations associated with an academic environment, he says. And it is this attitude, that Armas hopes to change with Science and Cocktails.
"We have to fight against this kind of mentality, and this type of mentality is even present in today's science communicators," he says.
"We completely deconstruct the academic environment. If you want to present your research, then you have to do it in a very informal way that is not academic," says Armas.
He shows a clip of one such introduction of Nobel laureate David Gross, coming on stage to discuss string theory.
"We made a theatrical sketch, that we screen before the talks. A naked guy comes in and [brings] some cocktails. It's definitely weird," says Armas.
But in doing this, people relax. They shout, clap, and become more receptive to new information, he says.
Science in Cocktails is a non-profit initiative, in its seventh year of operation. They have hosted more than 100 events in Copenhagen, Denmark, and Johannesburg, South Africa.
Go to the website to find an event near you or to watch past events.
Lisa Randall discusses 'Dark Matter and the Dinosaurs' (Video: Science and Cocktails)

---------------
Read the Danish version of this article on Videnskab.dk
Translated by: Catherine Jex
External links
Related content