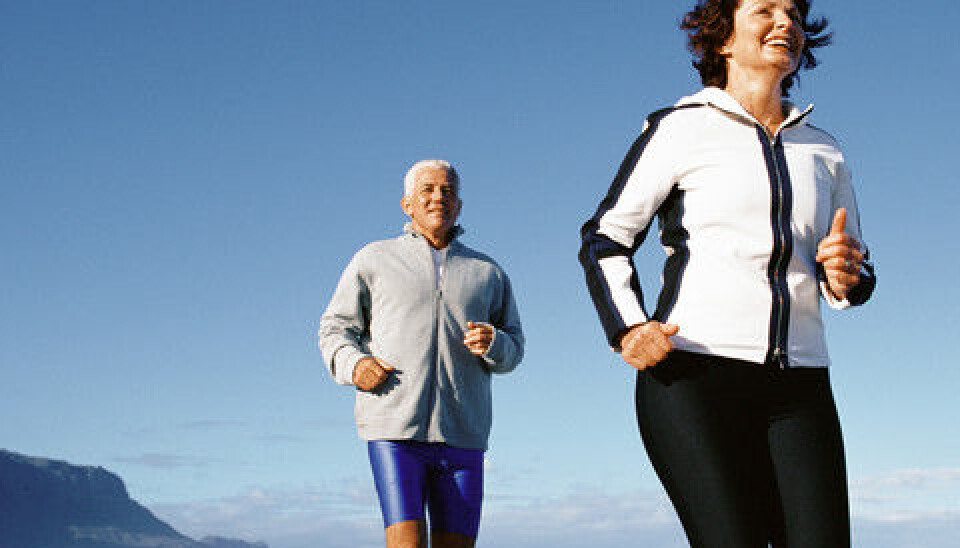 Regular exercise slows the progress of Alzheimer's
Alzheimer's grip on the brain and the mind is halted by exercise, new study shows.
Alzheimer's disease is the most common form of dementia in Denmark. The disease gradually destroys the brain cells, crippling mental facilities such as memory and the ability to concentrate.
A new study from the research project ADEX at the University of Copenhagen shows that just one hour of moderate physical exercise three times a week can slow the development of Alzheimer's disease when it is still at an early stage.
"We've known for a long time that physical activity reduces the risk of developing Alzheimer's. But now we also note that physical activity can actually slow development of the disease in people who have already contracted it," says Professor Steen Hasselbalch, lead researcher on the new study from the Danish Dementia Research Centre at the Faculty of Health and Medical Sciences, University of Copenhagen.
"It's really great news because we lack a decent treatment of Alzheimer's and here it seems that exercise can contribute along with the medicine we now have available," says Hasselbalch
The study involved 200 participants with early stage Alzheimer's. The researchers divided the participants into two groups, one of which was to engage in one hour of moderately intense exercise three times a week.
Participants who followed the researchers' exercise programme maintained their psychological well-being and their mental capabilities through four months, while the condition of the non-exercising participants gradually deteriorated.
Alzheimer's patients must remember to exercise
Professor Bente Klarlund from the faculty of health and medical sciences at the University of Copenhagen calls the new study an impressive and thorough piece of scientific work.
"It's the first large-scale study ever to test the effect of exercise on people with Alzheimer's," says Klarlund who also studies the effect of exercise on the brain and body.
"Never before have we seen anything so thorough and robust and involving so many people. So we can just hope that Alzheimer's patients will be able to keep to their exercise when it is not part of an experiment," she says.
Exercise triggers brain growth
When people exercise at moderate to high intensity, the body secretes a very special substance which boosts the creation of new brain cells.
The substance is know as Brain Derived Neurotrophic Factor - or BDNF - and this may be the reason why exercise has an effect on Alzheimer's.
"Alzheimer's is a degenerative disorder which causes the brain cells to die more quickly. This is probably why BDNF also helps people with Alzheimer's because the substance creates new brain cells," says Hasselbalch. "In this way, moderate physical exercise may arrest the decrease of brain cells and with it the deterioration of brain function. So that is what we are investigating right now."
That is a very likely explanation, says Klarlund. "Which means it's good news because there's been a shortage of non-medical treatment."
"Exercise is good for our health in many respects. It's not just our bones, muscles, heart and blood vessels that benefit from exercise--it's also good for the brain," says Klarlund. "And this study proves that."
---------------
Read the original story in Danish on Videnskab.dk
Translated by: Hugh Matthews
External links
Related content