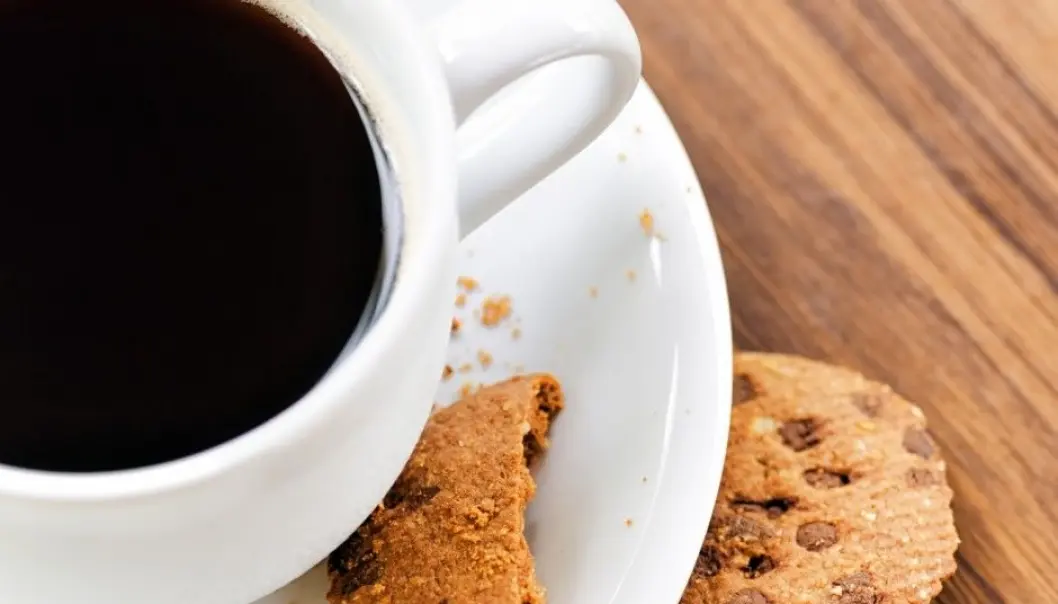 The aroma of chocolate chip cookies boosts coffee sales
Good smells can heighten your cues to buy coffee or sweet rolls, according to Swedish researchers.
Do the smells we detect outside shops have an impact on our wish to make purchases? Swedish researchers wanted to find out whether consumers became more aware of advertising signs when exposed to different scents.
They recruited 100 persons on the Stockholm street Kungsgatan. These were equipped with special eye-tracking glasses. This enabled the researchers to see exactly what catches the consumers' eye.
The participants were unaware that some were exposed to a vaporiser that pumped out the smell of chocolate chip cookies as they strolled past a Stockholm café.
More aware
Analyses of data from the eyeglasses showed what the participants looked at and for how long. See a video of the experiment here:
The participants who were exposed to the smell were 50 percent more aware of the café signs than those who hadn't walked through the delightful scent, according to the researchers.
Over a quarter – 27 percent more – in this group recalled having seen the signs on the sidewalk or the outdoor wall afterwards. They were also more positive toward the major Swedish coffee brand Löfberg, the corporation that sponsored the study.
Their inclinations to buy something at the café rose 40 percent compared to the control group who were not exposed to the scent.
"Café-related scents drew attention to the café and increased recollections of the sight. This in turn raises the intention to buy," says Poja Shams.
He is a lecturer in business administration at Karlstad University and implemented the study with together with Professor Anders Gustafsson at Karlstad University's Service Research Centre (CTF). The study has yet to be published in a peer-reviewed periodical.
Sweet smells most enticing
Sweet scents catch our attention the most, according to the researchers. If you want to raise sales of coffee and sweet rolls it is obviously a good idea to fill the air with the ambient scent of fresh roasted coffee beans and fresh-baked rolls, cakes or cookies.
"The participants who were exposed to cookie smells spent more time looking at the signs than those who did not get dosed with this sweet scent. They looked at the signs for six seconds on average, as opposed to four seconds for the other group," says Shams to ScienceNordic's Norwegian partner, forskning.no.
They were also more disposed toward buying other café products.
"The scent of cookies, or to be more precise, chocolate chip cookies, raised the wish to make a purchase by 21 percent compared to the scent of coffee."
Different effects
But the smell of coffee also helped make people more eager to reach for their purses and wallets.
"The scent of coffee and sweet buns gave a 40 percent increase in willingness to buy, as compared to no scent," explains Shams.
Numerous studies have been made to see how smells affect consumer behaviour. One shows how a scent in a store calms customers down. Ambient scents have different effects, depending on the store location.
You have probably noticed how malls and stores round the world use ambient scents to lure customers and get them to buy, and think it a simple trick. But the effects of these olfactory stimulations on us as consumers are quite complicated.
Simple scents
Klemens Knöferle at BI Norwegian Business School's Department of Marketing is not ready to comment the Swedish study. But he says that Professor Manja Leib at the University of Lausanne has conducted loads of research on so-called sensory marketing.
One theory is that a simple setting or environment gets us to make decisions faster than when we have many complicated choices, as greater numbers of choices make us give more thought to our actions.
With this in mind she conducted a study with 400 participants in a Swiss home decorations store. One group of 100 was exposed to the ambient scent of oranges. Another 100 were given a more complex scent wafting of oranges, sweet basil and green tea.
A control group 200 were not exposed to any scent. The "orange" customers spent more money on average than those in the other two groups, the study showed.
Combined with signs
"But signage is essential for the scent to have any effect on sales. The scent has to be combined with relevant information in the setting," says Professor Anders Gustafsson in a press release from Karlstad University.
"The insights from the study of eye-tracking enable us to optimise the placement of signs in a store," says Leif Sjöblom, who was responsible for innovations at Löfbergs, in the same press release.
"Eye-tracking is also an excellent way of testing the retailing qualities of packaging before it is used," says Poja Shams.
--------------------------------------
Read the Norwegian version of this article at forskning.no
Translated by: Glenn Ostling
Scientific links