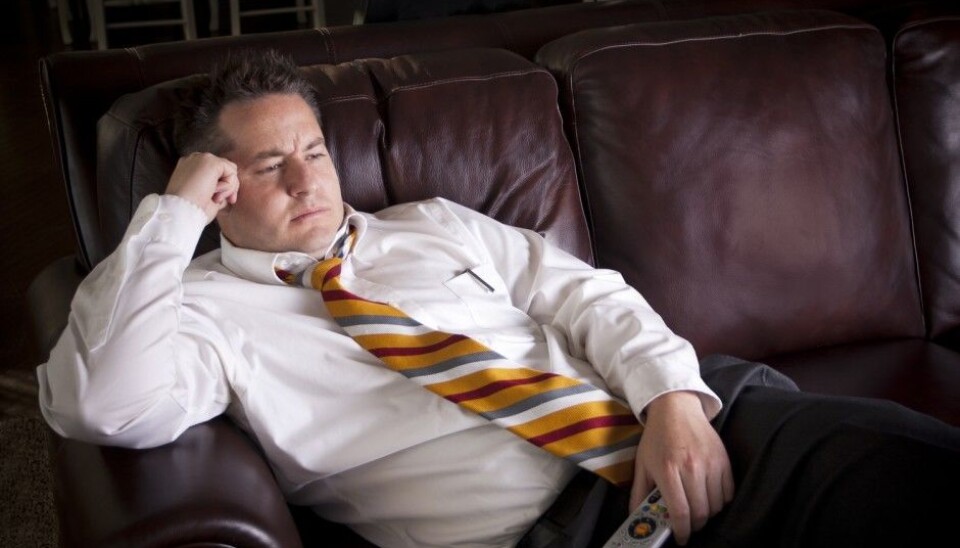 Being unfit nearly as harmful as smoking
Poor physical fitness amounts to nearly as high a risk of premature death as tobacco smoking and appears to be more lethal than hypertension and cholesterol.
Researchers have followed up on nearly 700 Swedish men for over 45 years from the age of 54 and the last ones until the year they would be 99. The goal was to find risk factors for heart attacks and death.
The results of the study were published last week in the European Journal of Preventive Cardiology.
Worse than high blood pressure
As the researchers expected, smokers, men with high cholesterol levels or hypertension ran a higher risk of a premature death. But low levels of aerobic capacity – or being unfit – actually represented a higher death risk than high blood pressure and high cholesterol levels.
Among the risks of a premature death, only smoking cast a longer fatal shadow.
"The advantages of being physically active one's entire life are crystal clear," says researcher Per Ladenvall at Salgrenska Academy of the University of Gothenburg.
Why is being in poor physical shape so risky?
"Probably a lot of factors are contributing here. In addition to hypertension and high cholesterol values, those who are in poor shape often have insulin resistance or poor blood sugar regulation. Added to that, they have components in their blood which cause blood clots," explains Ladenvall.
"They can also have poor resistance against diseases, so that when they fall ill it will more often have a fatal outcome than among persons who are fit," he adds. Ladenvall works at the University's Department of Molecular and Clinical Medicine.
Representative
These men were representative for males their age in Gothenburg at the time.
Other studies have shown the same thing but this one is unique in its duration.
A Norwegian study has shown that men with lengthy educations live an average of seven years longer than others. This difference can be a result of healthier lifestyles, including more physical exercise.
Maximum oxygen uptake
The Swedish men were tested at age 54, in 1963. A total of 656 men took an exercise test in which they were eventually asked to press themselves to their limits. Over 100 were already in too poor shape to complete the test.
The researchers measured the individual's maximum oxygen uptake. They were then divided into three groups, depending on whether they had low, medium or high uptakes.
A low uptake was 2.00 litres per minute, medium was 2.26 litres and a high uptake rate was at least 2,56 litres.
"This is a measurement of how physically fit a person is. The higher the rates, the better a person's fitness," explains Ladenvall.
Death registry
The researchers registered the men's health every ten years until 2012, when the surviving subjects were nearly centenarians.
The researchers had access to the Swedish Causes of Death Register and found out when the men died and what the cause was. They compared these results with the physical conditions the men had been in.
Could those who were less fit also have had other risk factors, such as poor diets?
"There were many smokers among those who were in poor shape, but we made adjustments for such factors. The effect of being unfit had an impact independent of being a smoker. But we didn't analyse diets in this study," says Ladenvall.
Men overestimate how active they are, according to a report from the Norwegian School of Sport Sciences, made on assignment for the Norwegian Directorate of Health. In every age group, Norwegian women now exercise on average more than men.
Survival of the fittest
The Swedish men who were in poor shape ran an elevated risk of dying from heart disease, but also from other diseases. Only smoking gave a higher mortality risk than being unfit.
The better the oxygen uptake the lower the risk of early death among the men. Or to put it simply – they lived longer.
The fittest among them ran the lowest death risk compared with the men with low oxygen uptake.
This was seen even after the researchers factored in other health issues such as smoking, blood cholesterol levels and blood pressure.
"We have made great strides in getting people to stop smoking. Now we have to get them to avoid sitting too much and leading inactive lives," says Ladenvall.
So to all the indolent among us, it's never too late to get in better shape. But Ladenvall stresses that it is easier to start early rather than late in life.
He and his colleagues also point out that some caution should be applied in the interpretation of the causes and effects as seen in this study. Although it lasted uniquely long, it was fairly limited in the number of participants and that weakens the basis for conclusions. Other than that, the researchers think this study was rock solid.
A recent study by the Norwegian School of Sport Sciences shows that it is enough to take a walk every day to counteract many of the dangers of an office job, sitting at a computer.
--------------------------------------
Read the Norwegian version of this article at forskning.no
Translated by: Glenn Ostling
Scientific links
External links
Related content