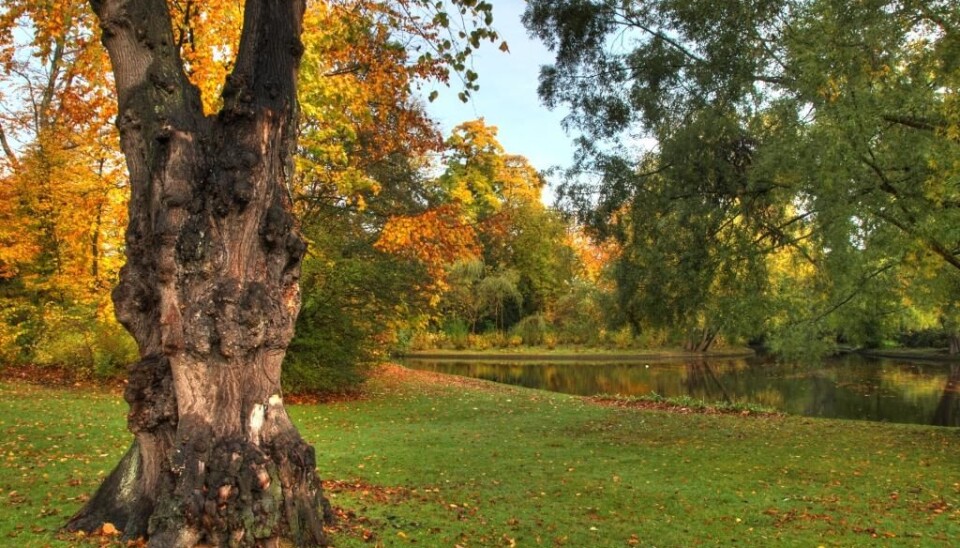 Green spaces boost your health
Living close to a green area is likely to make you a healthier and happier person, says report.
Most of us know how good it feels to take a stroll in the park, on the beach or in the woods.
But many are probably not aware that doing so actually makes us healthier, both physically and mentally. The closer we live to nature, the healthier and happier we are. It's as simple as that.
This is the conclusion of a survey in which 14,566 Danes were asked to assess their physical and mental health and their use of green spaces.
"We found that people who live less than 300 metres away from green spaces are healthier in several areas, compared to those who live more than a kilometre from a green space," says Assistant Professor Jasper Schipperijn, of the Institute of Sports Science and Clinical Biomechanics at the University of Southern Denmark.
When you're in a green area, you get away from the city bustle and get the opportunity to move your body – and that affects your mental state. It allows you to recover and stress down.
Jasper Schipperijn
"In fact, this applied to all the health areas we studied," he adds.
The body gives the brain a break
We use green areas for walking and jogging, for relaxing and picnicking, all of which are good for our health – so good, says the report, that those who live near a green area are:
More physically active
Slimmer
Less stressed
Less plagued by pain
Have fewer mental health problems
Function better socially
We de-stress in green areas
What nature does to our health varies from one person to the next, but Schipperijn mentions three things in particular that produce the positive effects:
Our study indicates that green spaces are essential to us and should be regarded as an infrastructure on the same level as roads, water supplies, sewers and telephone connections.
Jasper Schipperijn
Being physically active
Stressing down
Meeting other people
"If you live near a green area, you use it more frequently," he says. "Here you get away from the city bustle and get the opportunity to move your body – and that affects your mental state. It allows you to recover and stress down."
The researchers did not focus much on the social effect; however, other studies have shown that green areas such as a park are a great place to meet people and spend time with your family and friends.
"The green surroundings could encourage and ease social contact," he says.
Natural environments require less concentration
Numerous theories seek to explain the positive effect that nature has on people. A popular one is known as 'the attention restoration theory', which states that we have an occasional need for 'easy' experiences that don't require too much brain power to decode. And nature can give us plenty of these experiences.
Fundamentally, all these theories are saying more or less the same thing: that being out in nature requires less concentration, explains the researcher. In the city we are constantly being bombarded with impressions – from other people, shops, adverts, traffic, etc.
"Our brain needs to process all this information and that can wear us out. Natural environments are great for recovery because these impressions are easier for our brain to interpret."
Social inequality is not the explanation
Accommodation is usually more expensive when it's located near a green area. And the study indicates that people who live near green areas are generally slightly better educated than those who live farther away.
The question, then, is whether the findings could be explained with reference to economic and educational factors – i.e. whether those who live near green areas are healthier as a result of their socioeconomical advantage.
"In our survey there were great differences in house prices, regardless of the distance to green spaces," says Schipperijn.
"We found a slight tendency towards social inequality – that those who live nearer a green area are slightly better educated. But we noticed an effect even with this factor taken into account."
Nature as important as roads and water supplies
In an ideal world everyone would have access to a green space within a reasonable distance, but it's difficult in practice to create new parks, not least in cities.
Researchers at the University of Copenhagen are currently trying to figure out what impact it would have on people's lives if there were, for instance, more trees along the roads, a green cycling route or 'pocket parks', i.e. tiny parks the size of a detached garden.
Schipperijn says that perhaps the main message of their study is that it points towards the importance of thinking green in from the start when building new residential areas.
"Our study indicates that green spaces are essential to us and should be regarded as an infrastructure on the same level as roads, water supplies, sewers and telephone connections."
------------------------------
Read this article in Danish at videnskab.dk
Translated by: Dann Vinther
Scientific links
External links
Related content