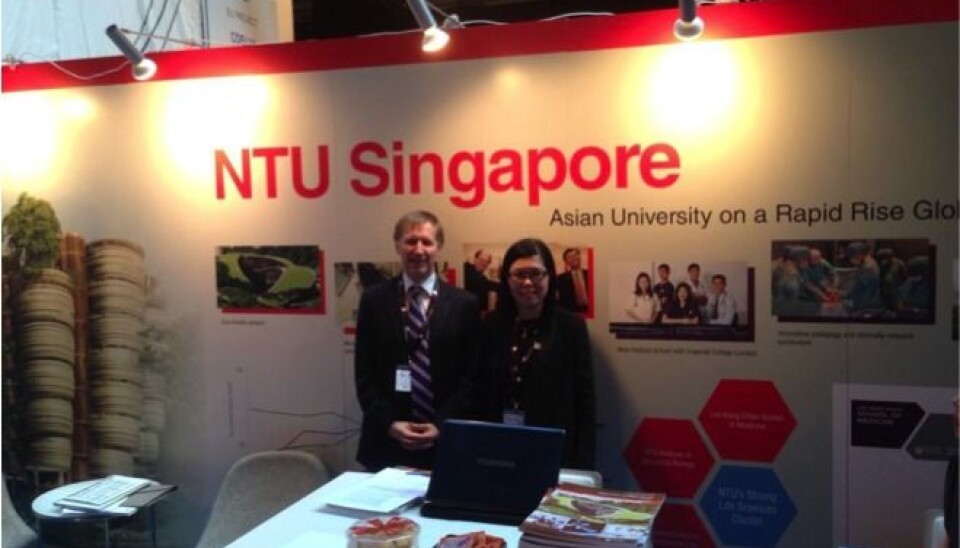 Universities recruit students from science conference
Universities have a lot to gain at Europe's largest science conference ESOF2014 -- even if they come all the way from Asia.
This article was written by students from ESOF2014 Future Academy.
At Europe's biggest science conference, Euroscience Open Forum 2014 - also known as ESOF - a group of students from ESOF2014's Future Academy interviewed Dr. Tim White from Nanyang Technological University (NTU) in Singapore about what universities have to gain from attending the conference.
What is the purpose for the university for attending ESOF2014?
White: "At this conference representatives from the university have an opportunity to get some publicity and attract new students to their university. They can present their programmes and the opportunities at their institution to other scientists, and make it more well-known in academic circles."
The article was written by students as a part of ESOF2014's Future Academy-programme.
The students, so-called Future Communicators, have written articles and communicated via Twitter and Instagram from the big science conference ESOF2014 where 4.500 researchers participated.
»They can also make new relations with other researchers and get cooperation deals with other universities. Furthermore they have the opportunity to meet companies and sign contracts with them."
»It's hard to see the results of their presence at ESOF2014 in numbers -- but what they can see is if the number of applying students increases. And it does."
What do you normally research and how can that be related to your presence here at ESOF?
"The university's presence at ESOF2014 can be explained with the fact that in science it's extremely important to share results with other scientists and researchers. It's also very useful to hear other people's opinions on the research."
How come you are here at a European conference?
"It's relevant to be at this conference to talk with other researchers and discuss ideas and achievements. It's easier to work with other cities than to cooperate with a country.«
"For instance both Copenhagen and Singapore are part of the C40 project [working with green energy and global warming]. When it comes to green energy, European scientists are far ahead of the rest of the world so it's important for Asia to get inspiration to develop their own research."
Related content