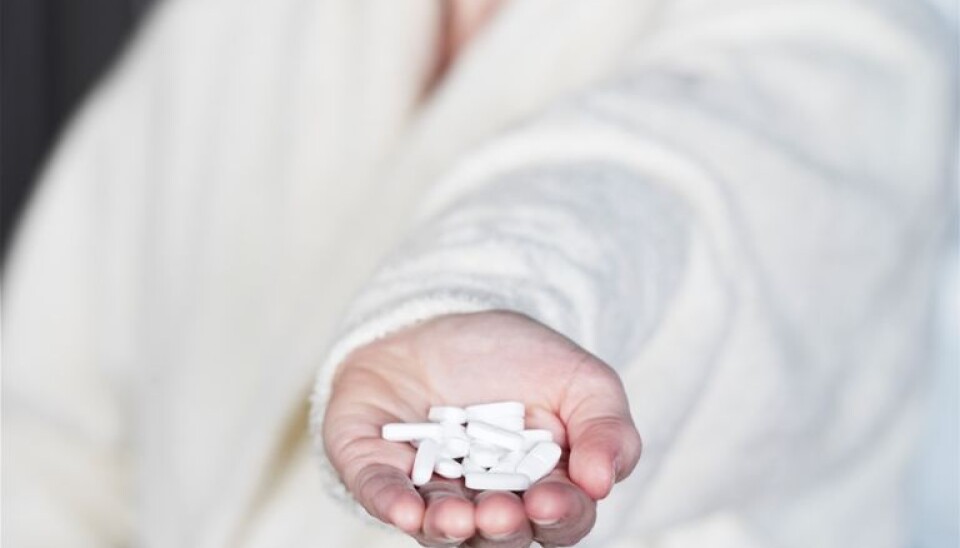 Common painkillers can cause blood clots
Common painkillers double the risk of blood clots in the legs and lungs, new research reveals. EU warnings against the pills are underway.
Voltaren. Ibuprofen. Naproxen.
These are just some of the NSAID drugs that may be familiar to the average consumer.
Even though painkillers are widely used, they are by no means harmless. According to new research, the risk of developing blood clots in the legs or lungs is actually doubled when NSAID painkillers are consumed.
"What's new about our study is that we show that patients who take NSAID medicine have a greater risk of developing blood clots in their legs or lungs. We already know from previous studies that several NSAID drugs increase the risk of cardiac fibrillation and thrombosis," says doctor and PhD student Morten Schmidt, of the Department of Clinical Epidemiology at Aarhus University Hospital.
We recommend that patients with heart problems avoid these drugs completely, and generally the drugs should be taken at the lowest possible dose for the shortest possible time.
Doris Stenver
He has headed the study of the NSAID drugs, and his research was recently honoured with the international Manucci Award, which is handed out annually to a number of young scientists by the International Society of Thrombosis and Haemostasis.
Data from 90,586 people
As part of the study, Schmidt and his colleagues studied data from every single Danish patient who was hospitalised with a blood clot in the legs or lungs between 1999 and 2006.
"In total, we identified 8,368 patients who had had blood clots in the legs or lungs. We then checked how many of the patients had bought a prescribed NSAID-drug less than 60 days before they were admitted with a blood clot," he says.
Each of the 8,368 blood clot patients where then compared with data from a control group which consisted of ten randomly selected people of the same age and sex as the patient.
What are NSAID drugs?
NSAID is short for 'Non-Steroidal Anti-Inflammatory Drugs'.
NSAID pills are used for treatment of a large number of diseases, such as arthritis and inflammation of the muscles and ligaments. The pills are also used for treating period pains, fevers and migraine.
Some types of NSAID pills are sold without a prescription. These include mild variants of Ibuprofen.
Thus, data from a total of 90,586 people was considered.
"The study showed that people taking NSAID drugs double their risk of getting a blood clot in the legs or lungs," says Schmidt. "So it appears that there is a link between the NSAID drugs and the development of this type of blood clot. But our study needs to be confirmed by other studies if we are to say for certain."
Risk associated with all NSAID drugs
There are several different types of NSAID drugs that are used to treat anything from headaches to severe arthritis.
However, this new study doesn't indicate that any particular types of NSAID drugs are best avoided in order to steer clear of blood clots in the legs or lungs.
Side effects of NSAID drugs
The list of potential side effects associated with the use of NSAID pills is long, but serious problems rarely occur.
The most common side effects are stomach aches, nausea, vomiting, diarrhoea, headache, dizziness, fatigue and visual disturbances.
A series of studies have shown that NSAID drugs increase the risk of blood clots. In 2011, a large Danish study showed that using NSAID drugs even over a short period increases the risk of developing thrombosis.
NSAID drugs can also have a negative effect on the liver and kidneys, lead to an increased risk of stomach ulcers and lower the chance of conceiving.
"Our study indicates that there is an increased risk of blood clots regardless of which NSAID drug the patient takes," he says.
"But when it comes to the risk of thrombosis, other studies have shown that the level of risk varies with different NSAID drugs."
EU to warn against NSAID drugs
According to Doris Stenver, the chief physician of the Danish Health and Medicines Authority, the Danish authorities are very aware of the potential side effects of NSAID drugs.
"On the whole, there is a large number of studies that indicate that the risk of developing blood clots increases with the consumption of NSAID drugs," says Stenver, who works in the Unit for Drug Safety Surveillance.
"Because of this, we recommend that patients with heart problems avoid these drugs completely, and generally the drugs should be taken at the lowest possible dose for the shortest possible time."
She is also a member of the EU Pharmacovigilance Risk Assessment Committee, PRAC, where work is currently undertaken to tighten the guidelines regarding the use of NSAID drugs.
"We have an EU meeting this month, where we are to look at the safety measures regarding NSAID drugs. We will review the new research on the subject, including Danish studies," she says.
Pills that spark off debate
NSAID medication is regularly subject to much debate in the media. In June, experts spoke out on the national Danish news and warned against the risk connected to the NSAID drug Diclofenac, which is associated with an increased risk of potentially lethal heart problems.
"If you compare Diclofenac with other NSAID drugs like Ibuprofen and Naproxen, Diclofenac has a much higher risk of heart-related side effects," she says. "Several studies have showed that. Because of this, The Danish Health and Medicines Authorities have stressed that any prescription of this particular drug should be considered thoroughly."
NSAID drugs are here to stay
"In the short term and at low doses, NSAID drugs may still be a good choice of treatment for some patients. So these drugs are certainly not going off the market."
She adds that with every single patient, the doctor must carefully consider whether it is necessary to use an NSAID drug, or if the patient could make do with another analgesic, such as paracetamol.
Patients with heart diseases should be particularly cautious, as should patients with high blood pressure.
"If you're worried, see your doctor. Some of these drugs are even sold over the counter. So it's advisable to read the patient information leaflet and to contact your doctor if you feel there's any cause for concern," says Stenver.
------------------------------
Read this article in Danish at videnskab.dk
Translated by: Iben Gøtzsche Thiele
Scientific links
External links
Related content