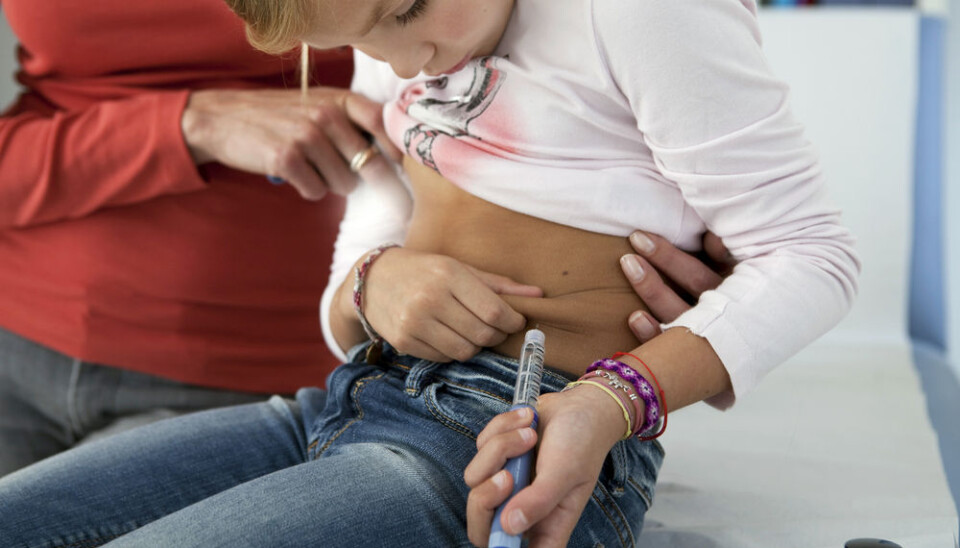 Obesity during pregnancy puts children at risk of developing diabetes
New study links obesity in the early stages of pregnancy with an increased risk of type 1 diabetes in children.
Scientists have found the first direct evidence that obesity during the early stages of pregnancy increases the child's risk of developing type 1 diabetes.
The scientists' advice for expectant mothers is clear: lose weight to decrease the chance of your child developing the disease.
Type 1 diabetes is an autoimmune disease that typically develops in childhood, which has earned it the name juvenile diabetes. More than 550 million people across the world are expected to be living with the disease by 2030.
The new study is published in Diabetologia, the scientific journal of the European Association for the Study of Diabetes.
Juvenile diabetes is a burden for all
The study cohort comprised 1,263,358 children, born in Sweden between 1992 and 2004.
Children were followed from birth until diagnosis of T1D, emigration, death, or end of follow-up in 2009, whichever occurred first.
Body mass index (BMI) was calculated for the first trimester of the mother's pregnancy.
Maternal obesity was classified as a BMI (Body Mass Index) of 30 kg per m2 or higher, and compared to an average BMI range of 18.5 to 25 kg per m2.
Data was collected from the following Swedish registers: The Swedish total populations register, The Swedish Medical Birth Registry (MBR), The National Patient Register (NPR), The Cause of Death Register, and The Multi-Generation Register.
Other risk factors considered were whether the mother had smoked during pregnancy, her age at the time of conception, and the type of delivery.
First trimester maternal obesity was a risk factor for type 1 diabetes in offspring of parents without diabetes, but there was no additional risk in offspring of parents with diabetes.
Researchers know that around ten per cent of the children diagnosed with the disease have inherited it from their parents.
That leaves the remaining 90 per cent in the dark, and clinical researchers are still investigating why these children develop the disease - and crucially, why reported cases are increasing around the world.
The nickname juvenile diabetes is rather misleading as there is nothing juvenile about it. Once you have it, it follows you for the rest of your life.
There is currently no cure and diabetes patients must learn to manage the disease through regular injections of insulin, which is carefully balanced to fit their diet and lifestyle.
Around 366 million people were living with type 1 diabetes in 2011. This is predicted to climb to 552 million by 2030, according to the International Diabetes Federation.
Type 1 diabetes occurs when the pancreas does not produce insulin, causing high blood glucose levels.
Symptoms include fatigue, thirst, passing more urine than usual and weight loss with loss of muscle bulk.
The is no cure, but treatment by regular insulin injections, carefully balanced to the patients diet and lifestyle aims to regulate glucose levels to avoid health problems in the future.
Source: NHS, in the UK.
"We know that incidents of type 1 diabetes are increasing by two to five per cent each year around the world and we see the highest increase in children under the age of five but there is no cure. This makes it a large burden not only for individuals and their families, but also for the health system," says study co-author Tahereh Moradi, an associate professor at the Karolinska Institute in Stockholm, Sweden. "In other words, it's bad for everybody so it's important to understand how to prevent it."
More than a million children included in the study
Moradi and her colleagues studied 1.26 million children born in Sweden between 1992 and 2004 and followed their progress through medical records contained within Swedish national registers from the time of their birth until 2009, or until they developed the disease.
Almost 6,000 children developed the disease during the study. Most of them were born to parents from within Scandinavia, but around 300 were the children of migrants from outside the Nordic region.
The researchers were curious to know if children were at greater risk of developing the disease if their parents also had type 1 diabetes, or if the mother was overweight during the early stages of pregnancy.
Highest genetic risk from parents with type 1 diabetes
At first, Moradi's team confirmed what was already known from previous studies - children are more likely to develop type 1 diabetes if either of the parents are diabetics.
"We found that children are three times more likely to develop the disease if their mother is a diabetic, and five times more likely if their father is diabetic," says Moradi. This was true for parents of both Nordic and non-Nordic background, and confirms previous studies from around the world.
But the researchers wanted to know more. For kids born to Nordic parents, they had enough information to look at these data in a different way, and so they split the parents up according to whether they had type 1 or type 2 diabetes.
They found that children, whose parents had type 1 diabetes, had the highest risk of developing the disease themselves. This was 6 times more likely when the mother has type 1 diabetes, and 8 times more likely, if the father had it.
Maternal obesity increases risk of type 1 diabetes in children
Previous studies have suggested a link between obesity during pregnancy and a child's risk of developing type 1 diabetes but up until now, there have been no definitive conclusions and no clear advice on the issue for expectant mothers.
According to Moradi, the detailed records available in Sweden provided them with enough clinical data on both mother's BMI (body mass index) and the diabetic status of both parents to clarify previously conflicting information.
To find a link between maternal obesity and type 1 diabetes, the scientists split the children into two groups. First in children with diabetic parents and then in children who did not have diabetic parents.
Looking at the data in this way, they found that children who had not inherited the disease from their parents had a 33 per cent higher risk of developing the disease if their mother was obese during their first trimester.
"We can now say it's likely to be caused by increased mother's weight in pregnancy. This could explain why there are increasing cases of the disease and why this is mostly in children with no hereditary risk," says Moradi.
Welcomed by other researchers in the field
For Marit Eika Jørgensen, head of clinical epidemiology at STENO Diabetes Center in Copenhagen, the link between maternal obesity and a child's risk of developing the disease is an exciting result.
"This provides very detailed clinical information and provides us with a much clearer view on the link between maternal BMI and an increased risk of type 1 diabetes in children who did not inherit it from their parents," says Jørgensen. "To my knowledge, this is the largest study looking at the risk factors of type 1 diabetes in children."
However, Jørgensen says that whilst the study is extensive and the results are convincing, the researchers may have overestimated the risk associated with maternal obesity.
"The authors use data from The National Patient Register in Sweden to classify parental diabetes but I would have also expected them to update this with additional data from the Swedish National Diabetes Register," she says. "In not doing so, it's possible that they have underestimated the true extent of diabetes recorded in the parents, especially type 2 diabetes. By underestimating these risk factors, they may then overestimate the effect of maternal BMI based on these data alone."
"It's not sure that this could have altered the result, but it is worth keeping in mind," says Jørgensen.
A number of risk factors, but does obesity outweigh them all?
Despite this caution, Moradi's advice to pregnant women remains adamant: Avoid obesity to reduce the risk of type 1 diabetes in your children.
"Prevention of obesity in women of childbearing age will reduce incidents of type 1 diabetes, which are otherwise increasing. Doctors can now advise women of reproductive age of this, and hopefully we should see incidents start to decrease," Says Moradi.
According to Professor Henning Beck-Nielsen, from University of Southern Denmark, these results may offer us a new way of preventing type 1 diabetes in children in the future.
"This study adds to our recent understanding that type 1 diabetes is not only an auto immune disease. I think it's a new theory linking type 1 diabetes to obesity, which may stress the beta cells, and I am not aware of similar studies," writes Beck-Nielsen in an email to ScienceNordic.
We still do not know what causes juvenile diabetes
Though this study adds to our understanding of the risk factors associated with type 1 diabetes, we still do not know what specifically causes the disease.
"Our results show that the hereditary factor is very strong but only ten per cent develop it by inheriting it from the parents. Meanwhile, type 1 diabetes is increasing throughout the world," says Moradi. "Our results suggest that obesity in women of child bearing age is a problem and will continue to be so as the next generation gets fatter."
She likens it to other high profile health issues.
"Many years ago, we knew there was a high risk in smokers for developing lung cancer and this was enough to know how to prevent it even if we didn't know the exact mechanism that caused the cancer, says Moradi. "The same is true here."
Scientific links
External links
Related content