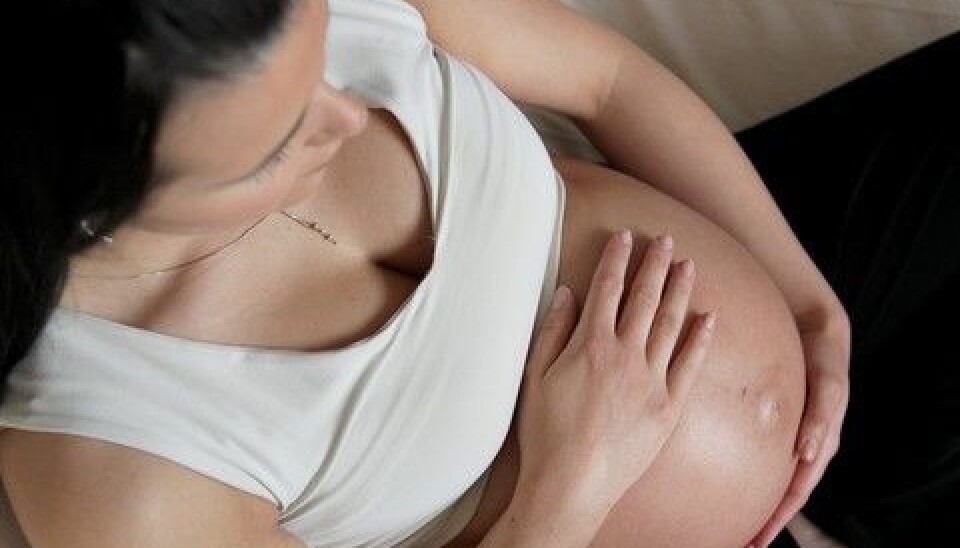 Swine flu vaccine does not harm your baby
Pregnant women can be vaccinated against swine flu without fear of negative consequences. A new study documents that the vaccine does not harm unborn babies. But another study confirms a suspicion that the vaccine can cause neuritis in elderly people in very rare cases.
When the swine influenza H1N1A pandemic raged in 2009, scientists hastily developed a vaccine against the disease.
It was recommended for weak, elderly people and pregnant women, who are particularly at risk of dying and suffering from serious complications of the disease. When the swine flu vaccine was taken into use, its protective effects were well-documented, but there was a rather limited understanding of its side effects.
Two international studies have now corrected this situation. Both research groups have tried to unveil any harmful effects in two independent studies, and the results of these studies have just been released in the prestigious scientific journal JAMA.
One study, led by Björn Pasternak, a researcher at Statens Serum Institut (the National Institute for Health Data and Disease Control) in Denmark, who specialises in the safety of drugs used during pregnancy, examined whether the swine flu vaccine has negative effects on foetuses.
Swine flu is a type of influenza that is found among pigs. It can be transmitted to people, but previously this only occurred with people who were in close daily contact with the pigs.
In April 2009, however, the first person-to-person infection of a swine flu virus was discovered.
The study found no increased risk of injuries neither at birth, premature birth or limited foetus growth.
The other study, carried out at Laval University in Quebec, Canada, found an extremely small risk of elderly people over the age of 60 developing a special form of inflammation of the nerves, neuritis, called Guillain-Barré Syndrome (GBS).
Researcher: 'Right decision' to vaccinate
According to a press release from JAMA, the Danish researchers involved in the study of pregnant women drew on the data in the Danish birth registers to compare how many premature births, diseases, cases of abnormal growth and abnormalities there were among the children of mothers who had been vaccinated against swine flu, compared to those who were not vaccinated against H1N1A.
The researchers identified a total of 53,432 live births; the mothers of 6,989 of these had been vaccinated against swine flu during their pregnancy. The study showed no statistical differences in these parameters between the two groups of vaccinated and non-vaccinated mothers.
In 2009, 2.4 million pregnant women were vaccinated against swine flu in the US alone.
Jens Lundgren, a professor of infectious and viral diseases at the University of Copenhagen's Department of International Health, Immunology & Microbiology, was not involved in the study, but he is happy about the findings.
"The Danish study of congenital defects is negative," he says. "This means it confirms the impression that you can vaccinate pregnant women without fear of negative health consequences. It also confirms the strategy from 2009, which recommended vaccination of pregnant women against swine flu because the risk they ran of complications from the disease was higher, especially in the last three months of the pregnancy. Our belief – that the influenza vaccine does not harm the unborn baby – was correct."
Old suspicions about nerve disease
The second study looked at an age-old discussion about whether vaccines against H1N1A can lead patients to develop Guillain-Barré Syndrome, which destroys the nerves and over time can turn the patient into an invalid.
The discussion started in 1976 following the discovery of an unusually high incidence of GBS in the US as a result of a special form of H1N1A vaccine.
The discussion was about whether the vaccines increased patients' risk of developing this nerve disease, and the matter was very controversial. There was a lack of facts and nothing to base opinions on, and the discussion ended in the 1980s with a realisation that the suspicions were unfounded.
"But in fact this study now indicates that there is an extremely small increased risk for people over 60 years of age," says Lundgren. "The risk translates into two GBS cases for every million people vaccinated."
He emphasises that further studies are necessary before any definitive conclusion can be drawn.
"In itself, the new study is not sufficient for a definitive conclusion," says Lundgren. "It is still too early to conclude that the flu vaccine causes this nerve disease, and this study is a reason to carry out similar studies in other patient types to see if the results can be found in them. We will have better information in a year or two, when the researchers have analysed their independent material."
---------------------------------
Read this article in Danish at videnskab.dk
Translated by: Michael de Laine
Scientific links
External links
Related content