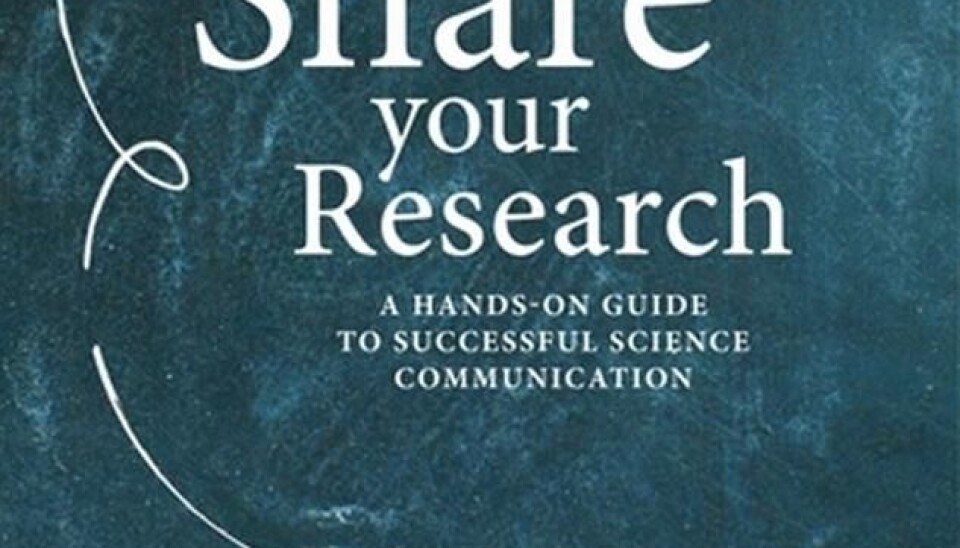 Share your research: the researcher's guide to captivating science communication
A new handbook on how to share your research from Videnskab.dk and ScienceNordic.com.
In connection with the EuroScience Open Forum conference (ESOF), held in Copenhagen from 21 to 26 June 2014, Videnskab.dk and ScienceNordic.com have published a handbook to science communication for researchers: "Share your research. A hands-on guide to successful science communication".
The book is the English version of "Slip din viden løs – håndbog i faglig formidling", which received commendatory reviews from the Danish science magazine Aktuel Naturvidenskab, the Danish Association of Communication Professionals, and the Danish Union of Journalists' member magazine, Journalisten.
The handbook is designed to make it easier for researchers and scientists to reach their audience: ordinary people.
It is written as a practical guide that can be USEFUL when giving a talk or writing a popular science article.
Videnskab.dk and ScienceNordic.com also offer courses where you get to work with the book's tools through practical exercises and get feedback on your work from the book's authors.
'Share your research' is written by professionals
The authors are journalists and editors with an academic education and many years of experience in science communication. They all have practical experience in communicating scientific material -- in particular as journalists who know what is needed to make a good story. And they're eager to publish good stories.
Authors:
Peter Hyldgård Biologist and science journalist. Project manager at Videnskab.dk
Niels Ebdrup Journalist and BA in in aesthetics & culture and the history of ideas. Journalist at Videnskab.dk
Mette Minor Andersen Orator. Communication officer at DTU Food - the National Food Institute, Technical University of Denmark, and at inSPIReFood
Irene Berg Petersen MA in history, journalism. Journalist at Videnskab.dk
"It's a great pleasure every day as a journalist to write about all the wonderful research conducted at the Danish universities. But we see it as our mission to get researchers to write as well," says Peter Hyldgård, project manager at Videnskab.dk and NordicScience.com, and editor of the new book.
"We describe some of the simple tools and communication tricks that we use in our daily work. The idea is that through the book we can get more researchers and scientists to share their knowledge with a broader audience," he says.
Why research communication?
But why should scientists spend their energy on learning how to communicate their research?
There are many good reasons. One of them is that people want to know more about research and science. This is shown by the many people who read Videnskab.dk and ScienceNordic.com; more than 600,000 users visit the sites every month because they want to be updated about the latest research and science.
Another reason is that you, as a scientist, owe it to yourself to inform about your research. As a researcher you also get professional benefits from communicating about it:
"There is an asymmetric idea that the public becomes wiser when researchers inform about their research, but that the researchers don't get wiser from it. But that's not true. You do gain professionally," says Vincent Hendricks, professor of philosophy at the University of Copenhagen.
He continues:
"In part you get better at getting down to the nitty-gritty and getting rid of the superfluous stuff -- also when you write research papers. But the public sometimes gets back to you with relevant problems related to your research that you didn't think of."
The book is a toolbox for professional communication
The book provides the tools that will help you get your knowledge to a wider audience and will help you:
Focus your communication

Find the good story -- and tell it

Write popular scientific stories and other non-specialist texts

Give a well-structured talk

Get visibility on the social media

Handle the press

Plan your communication
'Share your research' is rather like a cookbook -- with short texts that help you through the process of forming and relating your message in the right way.
The book also contains interviews with a number of leading researchers who are expert communicators. They offer their advice to other experts who want to spread their knowledge to the public.
There are interviews with Eske Willerslev, Cédric Villani, Carl Johan Sundberg, Londa Scheibinger and Vincent Hendricks. They are all researchers attending the ESOF 2014 conference.
All in all, the book gives a clear introduction to the various aspects THAT you as an expert communicator SHOULD take into consideration.
Translated by: Peter Hyldgård
Related content