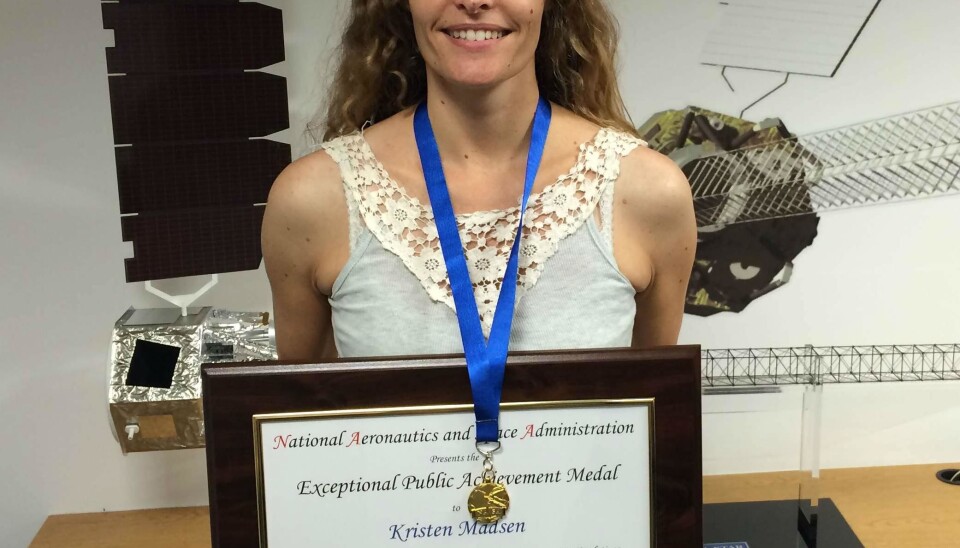 Danish scientists receive prestigious NASA awards
NASA hands out awards to two Danish scientists in recognition of their behind-the-scene work.
Danish scientists have received no fewer than two individual medals and a group award from the American space agency NASA.
"This is a huge honour. The medal is a 'big deal' as they say over here, so I am really pleased," says Kristin Kruse Madsen, a senior researcher at the Space Radiation Laboratory, Caltech.
She was awarded her medal for her contribution to the United States NuSTAR mission, which sent an x-ray telescope into space two years ago.
The medal Madsen has received is a 'NASA Exceptional Public Achievement Medal'. The prestigious award is given to people who are not on the permanent staff of NASA or US authorities but who contribute to NASA's missions all the same through their research.
The other recipient of NASA's 'Exceptional Public Achievement' medal was Professor John Leif Jørgensen, head of the department of measurement and instrumentation at DTU Space, Denmark's Technical University.
"NASA gave out two of that kind of medal and both went to Danes. I reckon that's pretty awesome," says Jørgensen.
One film won two NASA awards
Jørgensen received his award for his "exceptional achievement in the design, production, and publication of a film of the Earth and Moon seen from the Juno spacecraft."
The same film, which shows the Moon orbiting the Earth, also earned a 'Group Achievement Award' -- a diploma which NASA awards for "an excellent group achievement that makes a significant contribution to NASA's mission."
Recognition of the people behind space research
Madsen says the NASA awards are a nod to the researchers who do not normally get much recognition for their contributions to space missions.
"A lot of people work extremely hard in the background and they easily get a bit forgotten when a mission produces significant scientific results. So it's really nice to get some recognition for your efforts," says Madsen.
She received her award for inventing a technique to sharpen out-of-focus images taken by NASA's NuSTAR satellite.
Sharpening blurred images
The NuSTAR satellite has an x-ray telescope on board and using this, the satellite attempts to wrest secrets from mysterious phenomena like black holes, supernovas and x-rays.
"The telescope has a long mast, with the optics in one end and a detector at the other stop the mast is moving backwards and forwards all the time, so when you try to take a picture it is out of focus and not particularly nice to look at," says Madsen.
"So what I did was to design and implement a method which removes the movement of the mast from the image to make it sharp," she says.
Total of 215 awards
Although the explanatory statement attached to her medal does not say so, Kruse Madsen has in fact also contributed to the NuSTAR mission by helping to build the satellite's x-ray apparatus.
The instrument consists of x-ray optics which are coated with a film that makes it possible to reflect x-rays. I designed these films and they were made in Denmark," Kruse Madsen explains, adding that senior researcher Finn Christensen of DTU Space was responsible for their manufacture.
When Madsen and Jørgensen were presented with their NASA awards in the United States a total of 215 awards were handed out.
"Half of them went to groups. As far as personal awards are concerned only two were made to people who do not work for NASA - namely in the categories open 'Public Service and 'Public Achievement'. So I was pretty amazed when I saw that John and I had received the two 'Public Achievement' awards," says Madsen.
In 2012, DTU researchers were also among the recipients of NASA's 'Group Achievement Award' for their contribution to the construction of instruments for the Juno mission.
------------
Read the original story in Danish on Videnskab.dk
Translated by: Hugh Matthews
External links
Related content