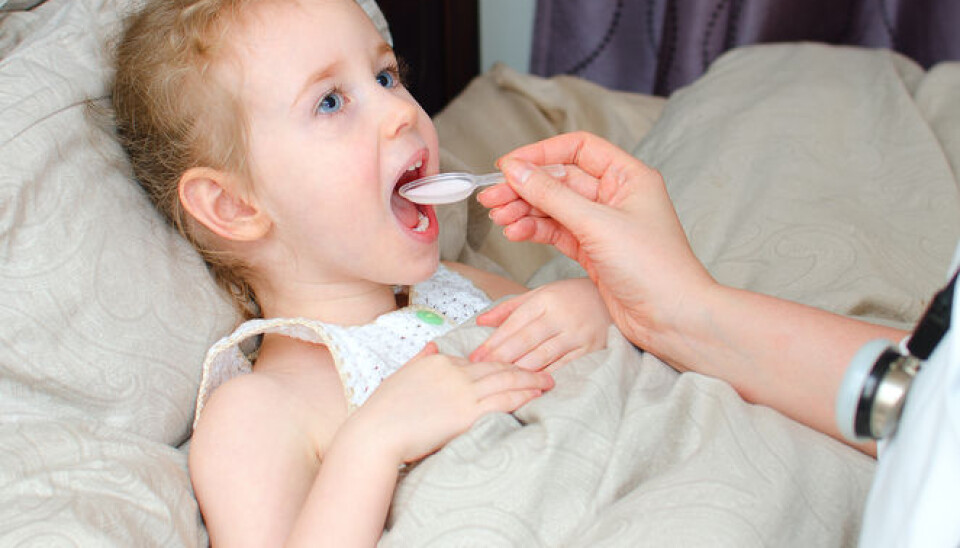 Antibiotics are effective at treating asthma
Antibiotics reduced the number of sick days caused by asthma attacks in young children by more than 50 per cent, shows new study.
A small revolution could be about to the hit the market in the treatment of asthma attacks: Antibiotics reduce the number of sick days of asthmatic children aged one to three years by more than 50 per cent.
"It's hugely effective for children. We have no [other] drugs that have similar effects," says co-author Hans Bisgaard, a professor at the University of Copenhagen and head of the Danish Paediatric Asthma Centre.
Pioneering study: asthma caused by bacteria
The new study is the first in the world to prove that antibiotics reduce asthma attacks. According to Bisgaard the study is very much in line with previous research from the Danish Pediatric Asthma Center, which has shown that children with asthma also have bacteria in their lungs.
"We've now shown that 90 per cent of asthma attack cases involve bacteria and that we can reduce the disease burden dramatically with antibiotics,"
"It's an important pioneering study, although it's not enough to recommend treatment with antibiotics just yet," says Bisgaard.
In Denmark alone, one in three children suffer from asthma or asthma-like attacks in the form of wheezing, shortness of breath, or coughing, which make the child sick for days.
The study includes 148 cases of bad bronchospasm and shows that children are sick for 13.7 days on average. Antibiotics reduced this to 6.4 days.
No recommended treatment just yet
The study, just published in the journal Lancet Respiratory Medicine, consisted of double-blind, placebo-controlled, randomized experiments.
But it raised a number of questions that need to be answered before antibiotics can be recommended as a treatment, says Bisgaard.
Bisgaard is yet to discover why the antibiotics worked in the first place. Do they fight the bacteria or do they treat the irritation by their anti-inflammatory properties? Or perhaps both?
"We don't know much about what the antibiotic treatment does. We can see now that it halves the symptom duration," says Hans Jørn Kolmos, professor and research director of Clinical Microbiology at the University of Southern Denmark.
"It's an important result and an interesting observation that we can't simply ignore. But you have to ask why it works," he says.
What were the side effects of the antibiotics, he asks.
"The researchers say there were no side effects of antibiotics in the study, but I don't buy that. All antibiotics have side effects, and if you don't find them, it's because you didn't look properly," says Kolmos.
He highlights the affect of the antibiotics on the microorganisms in the child's body--the so-called microbiota.
"I would be concerned about long-term effects of giving them antibiotics and by perhaps giving some children repeated treatments. So this requires more studies. We're not prepared to roll it out at this point of time," says Kolmos.
Researcher: Thorough study has some shortcomings
Asthma Researcher Grethe Elholm from Aarhus University agrees that we should not rush into new treatments until further testing has been completed.
She points out, that some studies have linked antibiotics in infancy with persistent asthma later in life, and that asthma is not simply one disease, but many different subgroups. One treatment, she says, may not work for everyone.
Therefore, it's too early to hand out antibiotics right now, says Elholm.
"Scientists can indeed exclude pneumonia or other bacterial infections that can cause inflammation and lead to asthma-like symptoms. But there may be other viruses or bacteria that they don't measure, and the children may have had other diseases that haven't been diagnosed. In this case, it's no wonder that antibiotics have an effect on their illness," she says.
"It's a very thorough study [..], but it's also somewhat speculative at times," said Elholm.
Would you give antibiotics to your child with asthma?
Bisgaard disagrees with his two colleagues.
He points out that the study is conducted on a group of children from the cohort COPSAC where asthma is diagnosed according to standardised guidelines.
He also notes that the study shows antibiotics are most effective when administered early.
According to him, this is exactly what you would expect if the antibiotic was working to fight bacteria, and the complete opposite of what you might expect if it worked as an anti-inflammatory.
The discussion is a little academic, says Hans Bisgaard.
"We've shown that we can reduce the burden of disease significantly. Do you as a patient say no to treatment, because we cannot guarantee that the effect is caused by more anti-bacterial properties?"
-------------------
Read the Danish version of this story on Videnskab.dk

Translated by: Catherine Jex
Scientific links
External links
Related content