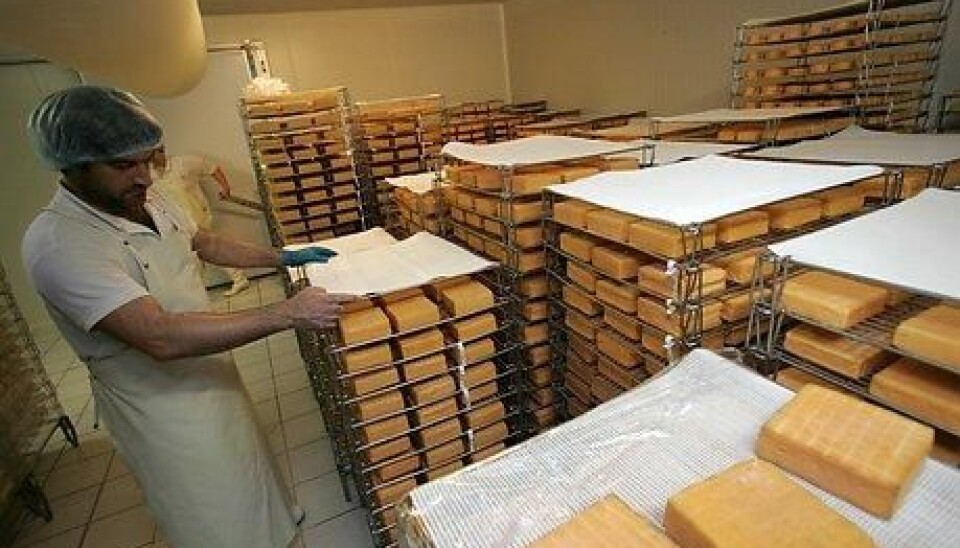 Cheese waste can replace antibiotics in pig feed
Farmers are feeding their pigs with so many antibiotics that we are becoming increasingly resistant to them. Now a Danish researcher has discovered that cheese waste with added bacteria can replace some of the antibiotics used by farmers.
If farmers feed their piglets with cheese waste with added health-promoting bacteria, they can make significant cuts in their use of antibiotics, shows new study.
"My studies show that fermented whey permeate can help prevent the pigs from getting diarrhoea that comes from E. coli infections," says Sarmauli Manurung, of the Danish National Veterinary Institute at the Technical University of Denmark (DTU Vet).
"It may also prevent domesticated animals from developing other diseases such as breast infections and breathing difficulties, according to studies which we have yet to test on live animals."
Manurung has just defended her PhD thesis, which shows that fermented whey fortified with so-called probiotic bacteria reduces the piglets' E. coli infections.
Bacteria against infections
If we can get the whey into production, and if the farmers are willing to use it, they can cut down on their use of antibiotics while also improving the piglets' lives.
Sarmauli Manurung
Whey permeate, a waste product that's released when making cheese, is already being used in animal feed, but Danish cheese manufacturers annually produce millions of litres of it, and most of it ends up at the incineration plant.
The researcher initially wanted to find out if the whey could be used more effectively.
So she tried to add various types of probiotic bacteria to the whey to see if the bacteria could even grow in the fermented cheese waste.
"Lactic acid bacteria are currently being used in some herbal remedies that prevent diarrhoea, but the lactic acid bacteria cannot grow in the whey permeate because it doesn't contain enough nourishment," she says.
Seventy-one piglets were used in the study
Some of the piglets had diarrhoea caused by E. coli bacteria. Others were healthy.
Some were given feed containing whey permeate with added probiotic bacteria. These piglets recovered quickly and started to gain weight.
To find out whether regular whey permeate with no added bacteria also has a preventive effect, some of the piglets were fed whey with no added probiotic bacteria.
The 'clean' permeate also had an effect, but it was much slower than with the whey that had probiotic bacteria added to it.
In the laboratory she found two other probiotic bacteria types – Lactobacillus plantarum and Weissella viridescens – both of which can easily grow in permeate.
The whey prevents diarrhoea in piglets
Manurung then put the whey permeate with the added health-promoting bacteria into the feed which she gave to piglets that had been infected with the diarrhoea-causing E. coli bacteria shortly after they had been weaned off their mother's milk.
The piglets not only had less diarrhoea, they also gained more weight after eating feed with added whey permeate.
"It costs close to nothing to acidify the whey permeate with these bacteria, so it's an inexpensive product that the pig farmers can afford," she says.
Farmers are currently spending a lot of money on curing piglets of diarrhoea and on making them gain weight.
"If we can get the whey into production, and if the farmers are willing to use it, they can cut down on their use of antibiotics while also improving the piglets' lives."
According to the researcher, the cost of producing one litre of fermented whey with added probiotic bacteria is around €1.30. One litre is enough to feed one pig for a day.
A palette of mechanisms needed
Over the past twenty years, doctors and veterinarians have encountered an increasing amount of bacteria that are resistant to antibiotic drugs that could once kill off just about all infections.
The antibiotic resistance partly stems from agriculture where farmers use large amounts of antibiotics to cure their animals of diseases such as diarrhoea, chest infections and respiratory tract infections. In Denmark only, almost 32 tons of antibiotics were used for piglets last year.
When the animals are fed this many antibiotics, the bacteria that make them ill eventually become resistant. And the resistant bacteria do not always stay inside the pigsty or the cowshed. That makes it a growing problem for our public health.
"It is of the utmost importance that we figure out how we can reduce the use of antibiotics in farming. There is a general resistance problem, and we need a palette of mechanisms to solve it," says Professor Anders Dalsgaard, of Copenhagen University's Department of Veterinary Disease Biology.
Dalsgaard does not feel sufficiently acquainted with Manurung's fermented whey product to assess whether or not it's a viable weapon in the battle against antibiotic resistance. But he welcomes any attempt to find a method that can reduce the farmers' use of antibiotics.
"It's a highly relevant topic, and it's very important that we continue to research into it. It would also be good if we could reduce the mortality in piglets because that's a great problem for the farmers," he says.
Researcher wishes to see whey permeate go into production
Danish dairy giant Arla has funded Manurung's project because the company is interested in putting its enormous amounts of whey permeate into good use.
"The cheese manufacturers are interested in finding a use for their whey because that would save them money on destroying it," says Manurung, who together with colleagues is currently working on commercialising the fortified whey.
-----------------------------------
Read the Danish version of this article at videnskab.dk
Translated by: Dann Vinther
External links
Related content