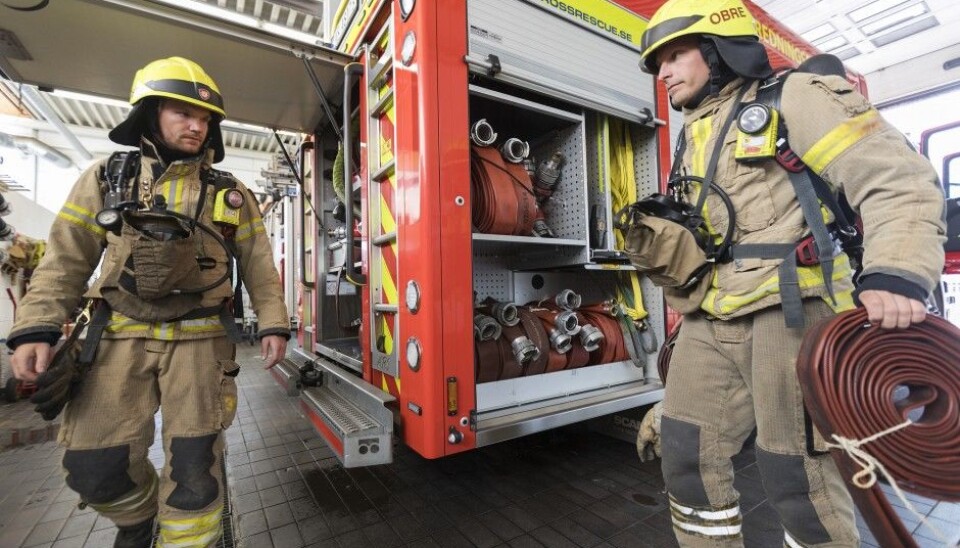 Here's why firefighters don't get burned out
In spite of encountering stressful situations, firefighters have good coping strategies that keep them healthy and protect them from burnout, a new study shows.
By definition, firefighting is a difficult job. Firefighters have to put out fires and save people in dangerous situations. Their work is physically demanding, and they have to be ready to respond instantly to an emergency.
You'd think this would be a prescription for burnout, but as it happens, very few firefighters suffer from the kinds of physical and emotional exhaustion you might expect.
More worried about cancer
Ann Jacobsson, a Swedish nurse anaesthetist and researcher, conducted a survey among randomly selected firefighters from rescue services around Sweden.
Nearly 500 firefighters, 418 men and 58 women, were asked about their working conditions.
The results show that very few firefighters have problems with burnout. Only 1 per cent of men and 2 per cent of women reported strong emotional fatigue.
This differs from the other so-called blue light professions, such as ambulance personnel and police.
"In comparison to other emergency workers, and despite having experienced difficult and dangerous situations, it appears that firefighters are doing quite well," Jacobsson said in a press release.
A Norwegian study from 2012 shows similar findings. In this study, the Norwegian firefighters were actually more worried about getting cancer than being hit in the head by a burning roof beam. They simply did not see their job as particularly risky.
Firefighters are much alike
One of the reasons why firefighters in Sweden rarely burn out, Jacobsson believes, is because of the strong ties among them. The reason behind this is that as a group, firefighters are quite similar, she says.
They are what researchers call a homogeneous group, with similar interests, backgrounds and physical characteristics.
"Firefighters themselves say that their colleagues are important for their own health and well-being. But they are also worried that this could change if their occupation is changed, "says Jacobsson.
Firefighters are mostly male — only 4 per cent of firefighters in Sweden are female. They are also mainly ethnic Swedish men. Several decades of measures to increase gender equality and diversity in the occupation have not managed to change the situation.
Threatened by gender equality
Many of the firefighters used words like close-knit and caring when describing their working environment. Jacobsson says this reflects the strong relationships between the firefighters and that they feel like a homogeneous group.
Her study also showed a widespread unwillingness and resistance to change in terms of diversity, such as quotas for women.
One of the firefighters interviewed for the study said that he felt the harmony at work was threatened by the pressure to make the fire department more diverse.
"If work groups that emphasize similarity are threatened with changes, they will also feel that their health and well-being are threatened," says Jacobsson.
"It's worth remembering this when issues such as reorganization and making the group more diverse are being discussed," she said.
-------------------------------------
Read the Norwegian version of this article at forskning.no.
Scientific links
Related content