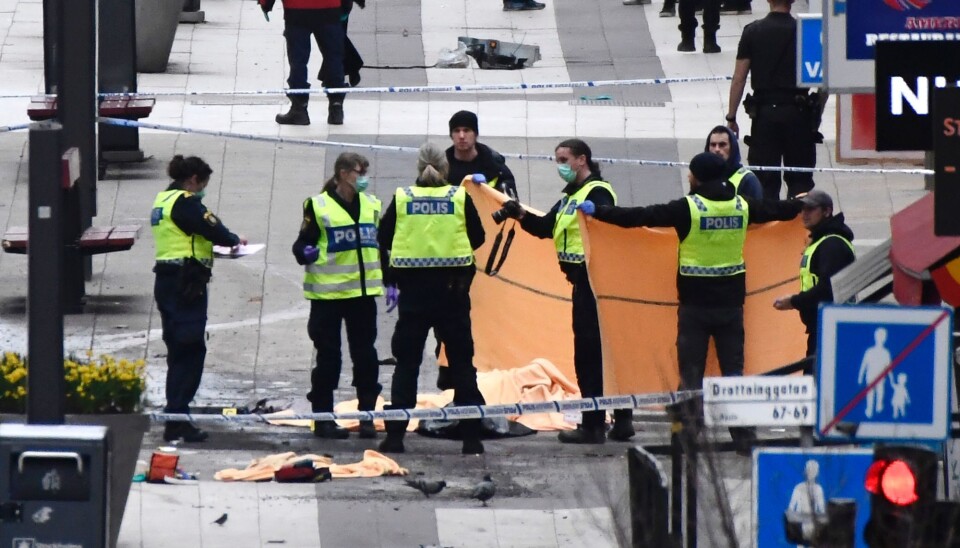 What the Swedes learned from the terrorist attack in Stockholm
Five people were killed and ten injured when a terrorist drove a truck into the crowd in central Stockholm on 7 April 2017.
The incident was terrible.
Yet, it could have turned out much worse when terrorist Rakhmat Akilov hijacked a brewery truck and drove about 500 meters at high speed down the popular pedestrian street of Drottninggatan – through a human sea – on a Friday afternoon.
Police were prepared
As the truck tore along the pedestrian street, it crashed into several obstacles and made lots of noise. This enabled many people to dash to safety.
Fortunately, the terrorist was not particularly competent. A suicide bomb he brought with him failed to detonate, and instead he lit himself and the truck on fire.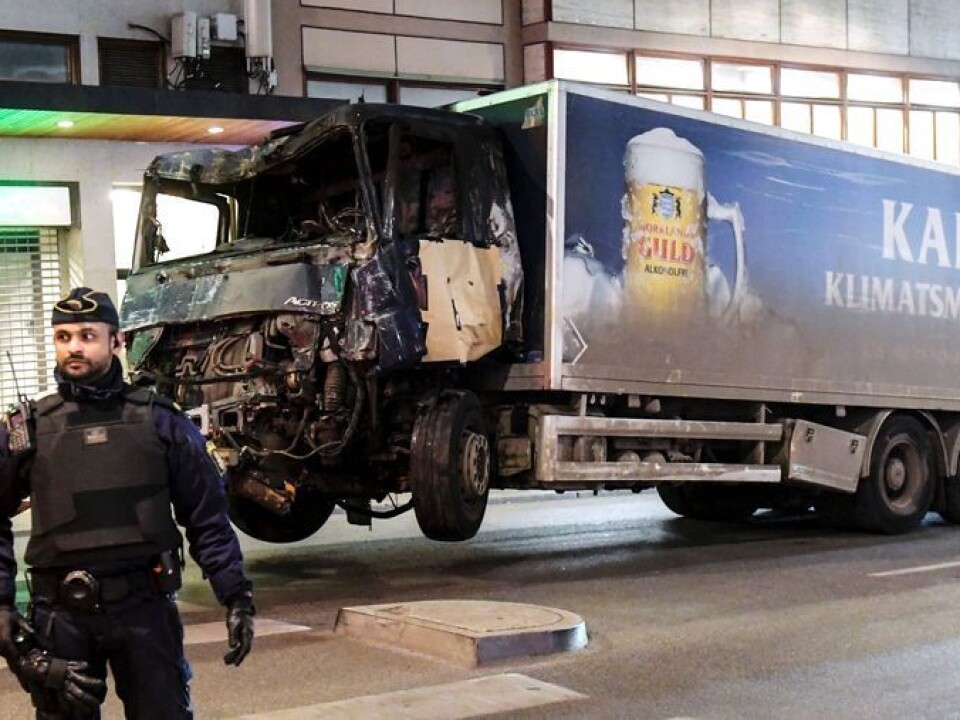 The Swedish police also had luck on their side.
Just a little before 3 pm on Friday afternoon, Sweden's police officers were wrapping up a week-long anti-terrorist conference at the Police Academy in Stockholm. There was no lack of leadership present.
On top of that, the police shift change took place at 3 pm in central Stockholm, doubling the number of available law enforcement officers.
And, the whole police force had recently been trained to deal with terrorist attacks.
Downtown full of people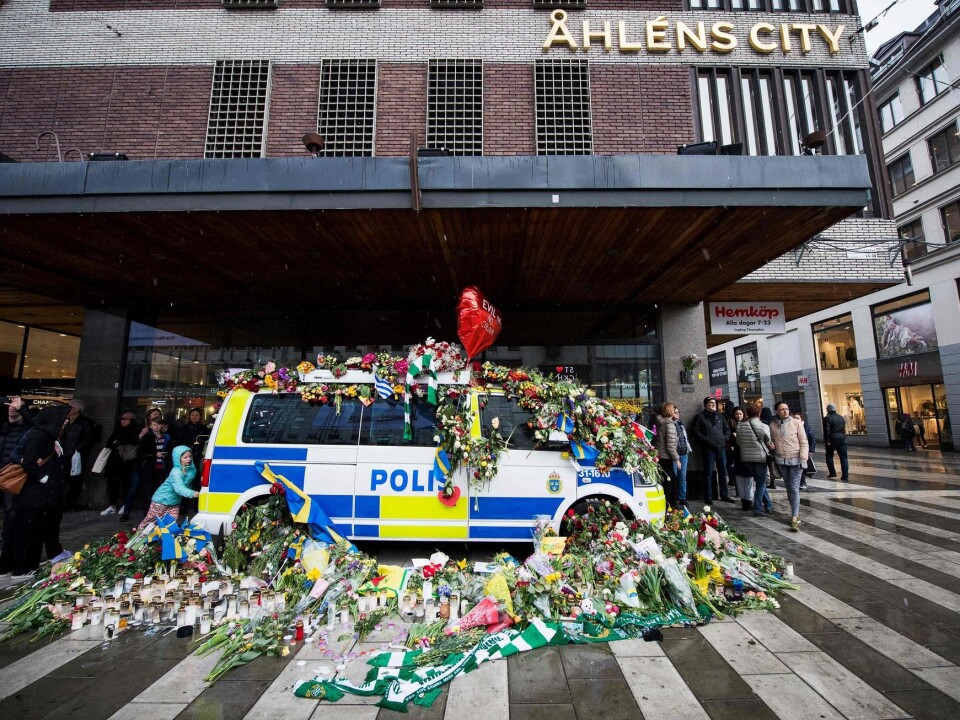 Per Engström is chief superintendent and a specialist in terrorist attacks at the Swedish Police in Stockholm. During the recent national emergency preparedness conference at Elverum, he told Norwegian emergency response leaders what Swedish police and other authorities had learned from the Stockholm terrorist attack two years ago. The conference was hosted by INN University, the Norwegian Police University College and the Norwegian Defence University College.
In contrast to the chaos that reigned when Norway was hit by a well-planned terrorist attack against Oslo and Utøya on 22 July 2011, Sweden's newly implemented counterterrorism measures turned out to function well during the Stockholm attack.
The city centre is full of people on this fine-weather afternoon. As with the attack in Oslo, information from the public starts pouring into the police station in Stockholm.
Everyone on the scene in 15 minutes
The first reports are that a major traffic accident has occurred. Then, reports of shooting come in from several different locations. The situation is chaotic.
Standing orders for Swedish police are that if any suspicion of a terrorist act is present, that is what they prepare for.
Police with heavy weapons immediately move out. The national Swedish emergency force are on the scene in Stockholm's city centre within ten minutes. Police in other cities are notified to secure areas where large numbers of people are gathered.
Everything and everyone can be in place in as little as 15 minutes.
The Swedish police also experienced how, with the help of camera surveillance in downtown Stockholm, they could quickly identify the fugitive terrorist and initiate an intensive hunt for Akilov. He was caught at 8 pm that night.
One decision maker
Until four years ago, 21 different public authorities in Sweden dealt with terror security.
Now just a single authority, with a single leader, decides – the Chief of Police.
"This gives us completely different options for dealing with terror," said Engström.
The Swedes also removed other bureaucratic barriers. Previously, a Swedish police officer needed to gain approval to act from as many as 12 higher level officials. Today, Swedish police work within a much simpler structure that is the same for all police officers across the country. The Swedish Armed Forces follow a similar format.
On 7 April 2017, the Swedes saw the value of having cleaned up their bureaucracy and cumbersome decision-making process.
Wrong to clear out people from city centre
In retrospect, Swedish police recognize that clearing Stockholm's city centre of people during the attack might have been a poor decision.
With buses and trains no longer running after the terrorist attack, several hundred thousand people started walking home.
"When city people need to find their way home on their own, they're often not very good at it. They get onto the tracks that they normally ride and follow them until they reach the station where they usually get off the train or metro," Engström says.
This wasn't safe. Now Swedish police are more aware that they themselves can trigger dangerous situations in a terrorist attack.
First officer on the scene in charge
Swedish police patrols are required to uphold a guideline stating that the first police officer on the scene takes command of the operation.
"On Drottninggatan the first patrol on the square took charge initially since it had the best overview of the situation. When other leaders arrived, they took over once they were briefed by those who came first," says Engström.
"If we don't run things this way, we risk creating passivity throughout the system," he says. "Initiative and trust are key when time is of the essence."
The Swedish terrorist specialist also believes the police have to allow themselves to make the occasional mistake. In critical situations, it may be more important for an officer to act quickly than to do everything right.
Danger of radicalization
Society shouldn't overreact to terror. If we do, we risk having more individuals becoming radicalized. This is just what terrorists want.
"This isn't simple for law enforcement – or politicians – to deal with. It's easy for politicians to think that we have to be tougher or impose stricter penalties," Engström says.
"But," he reminded the officers at the Elverum conference, "terrorists, whether they're on the right or left of the political spectrum, grow stronger when they face opposition."
-----------------------------