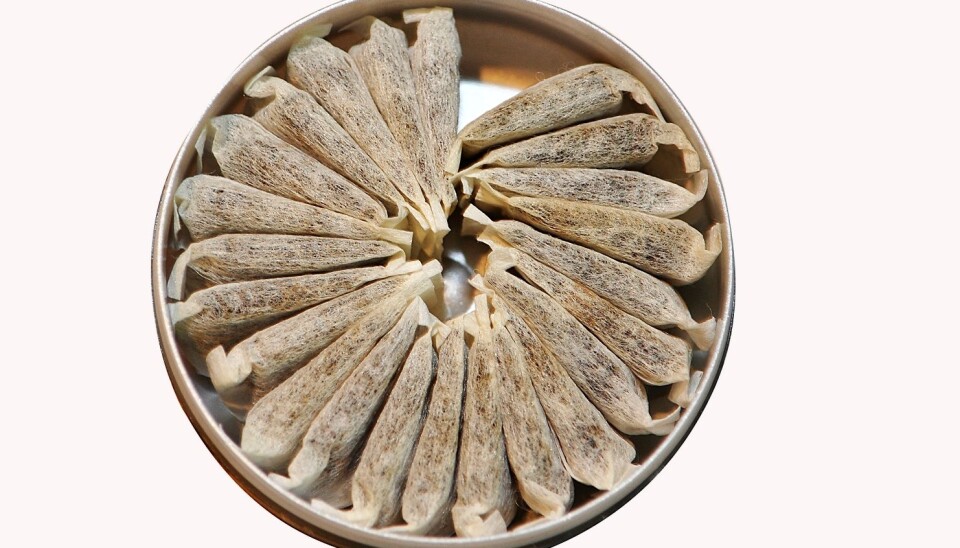 Snus smokeless tobacco can lead to smoking
Teenagers who use the moist powder tobacco – snus – tend to have low self-esteem and are more at risk of starting to smoke, one study finds. But researchers disagree.
In the last decade or so the number of Norwegians who smoke daily has dropped by a half. In 2013 only 15 percent of the population admitted to being daily smokers. In the same year, however, 19 percent of men and 7 percent of women were using snus daily, according to the Norwegian Institute of Public Health.
The institute's deputy director-general described the sharp increase of snus use among Norwegian adolescents as "an epidemic".
The number of snus users are even higher in Sweden: more than a million Swedes use snus. In both countries, the smoking ban in bars and restaurants that was introduced in 2004-2005, led to an increase the sales of snus.
Future smokers
A new Swedish study from Umeå University shows that youngsters aged 12 or 13 who use snus are three times as likely as their non-snusing peers to start smoking by the time they finish high school.
Low self-esteem and a less negative attitude toward smoking are factors that raise the risk of starting to smoke cigarettes.
The researchers followed the health developments of a cohort of about 1,000 Swedish youngsters, starting when they were 12 or 13 years old.
"We found a clear link between early use of snus and future smoking," says Junia Joffer, the researcher behind the recent study in a press release from Umeå University.
She took her doctorate in epidemiology and global health global at Umeå. A number of studies have already shown that family background, social status and alcohol drinking patterns can affect the odds of starting to smoke.
Expanding the snus debate
Joffer thinks the scope of public discourse regarding the pros and cons of snus has been too narrow.
"The study shows the importance of expanding this debate. Instead of just focusing on the issue of the prospective harm snus can do, and whether it can be used to help adults stop smoking, we should also be considering the fact that snus actually raises the risk of young people starting to smoke," she says.
Tord Finne Vedøy, a research at the Norwegian Institute for Alcohol and Drug Research (SIRUS), doesn't think that the Swedish study necessarily shows that early use of snus raises the risk of smoking later on.
"The impact that snus has regarding whether people start smoking has been investigated in an array of studies for several years. One thing these studies have in common is that they were not correctly designed to give an answer to what the researchers actually wanted to learn – whether snus really is a cause of later smoking. That goes for this study as well," asserts Vedøy.
He thinks the researchers behind such studies nearly always phrase themselves in a way that makes snus usage lead to smoking. Vedøy thinks the researchers fail to rule out other possible factors that could be prompting cigarette smoking.
"It is highly likely that the individuals who started smoking in the Swedish study, and in comparable studies, would have started smoking anyway. This has a whole lot to do with social vulnerability, which is something the authors of the study partly find and discuss."
Preferable to exchange snus for smokes
Joffer thinks the results of the study should be accounted for in Swedish campaigns against tobacco.
"I think the results show that we should really make a concerted effort to create tobacco-free school areas instead of just talking about it," she says.
But Vedøy finds fault with several aspects of the Umeå study, including the way the term "smokers" is so broadly defined.
"We know there's a big difference between the average socio-economic status of occasional smokers and that of daily smokers. It is also a bit odd that the researchers present a diagram of snus and smoking prevalence that is based on such very broad groups. This makes it looks as if 'snusing' and smoking are far more prevalent than they actually are," he says.
Vedøy refers to the official statistics showing that the share of young people who smoke has declined steadily in the past decade while snus has become increasingly popular.
"This points toward a change from smoking to using snus, rather than snus leading to smoking."
Translated by: Glenn Ostling
Scientific links
Related content