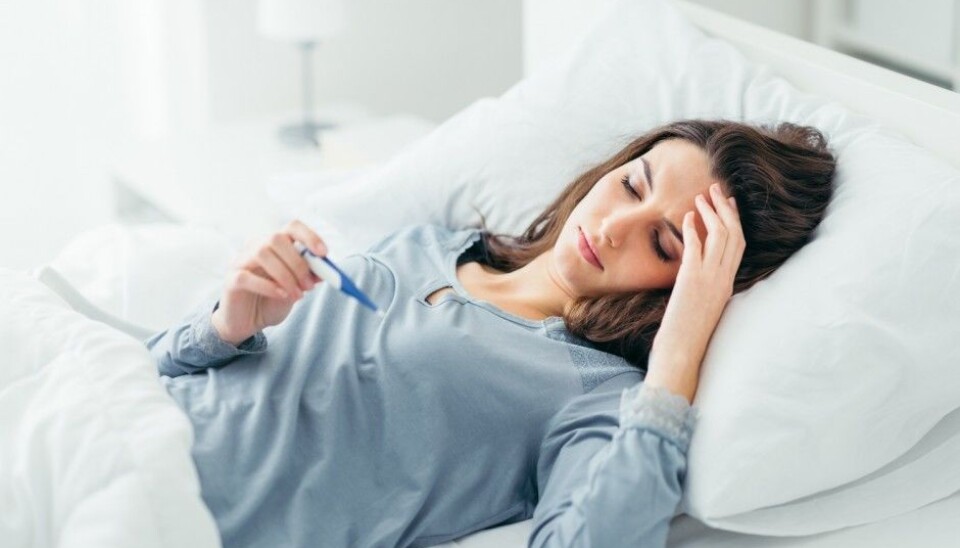 Can you trust "safe periods" as a form of birth control?
It's a well-known phenomenon that a woman's body temperature can help predict when she is least — or most —likely to become pregnant. Swedish researchers have studied this phenomenon and are selling a mobile phone app as a form of natural birth control. Their efforts are not without controversy.
Ever since the Catholic Church began promoting its calendar or "rhythm" method of contraception at the beginning of the 20th century — and almost certainly before then — people have been searching for a natural form of birth control. The idea is to use a woman's own rhythms of fertility to predict when it is safe for her to have unprotected sex.
Now, a mobile phone app has been created to give women a "green light" to have unprotected sex on days when they are least fertile based on their body temperature.
On "red days" the app advises women not to have unprotected sexual intercourse. That means if a woman wants to have sex on those days, she'll have to use some other form of contraceptive.
Is this a blast from a past where women had no access to contraception, or a scientifically proven method?
Last year, the app Natural Cycles was awarded an EU label, approving it as prevention. The label also applies in Norway.
Nevertheless, Norwegian health authorities are not comfortable recommending the app.
"I don't recommend natural methods for women who absolutely do not want children," says Steinar Madsen, medical director of the Norwegian Medicines Agency.
"These methods are only suitable for women who want to try delay a pregnancy but who won't think it's a problem if they become pregnant."
Problems in Sweden
The app is considered medical equipment, like a condom - which coincidentally only provides about 85 per cent protection against pregnancy because so many people use them incorrectly.
In the case of CE marking, manufacturers confirm that safety requirements have been met and that they have documentation to prove this, but the labelling does not say anything about the quality of the product, according to the Directorate for Civil Protection and Emergency Preparedness.
"This is not a guarantee. The requirements for testing and scientific documentation are much lower than for medicines," Madsen says.
According to the app producers, their product has hundreds of thousands of users in a number of countries and has become popular in Sweden, where it was created. The Swedish blogger Isabella "Blondinbella" Löwengrip is one of the co-owners of the company who sells the app. She has advertised it widely in social media.
The Norwegian blogger "Fotballfrue" (Soccer wife), Caroline Berg Eriksen, has also written enthusiastically about the app. But she subsequently added several complaints to a section concerning doubts about the method.
Now four Swedish hospitals have reported Natural Cycles to the Swedish Medicines Agency, which has initiated an investigation.
It started at Södersjukhuset, a hospital in Stockholm where 37 women showed up last autumn to get an abortion after using the app. Now information about unwanted pregnancies is flooding from both other hospitals and individuals, according to the Swedish magazine Sykepleien, which cites the Swedish Medical Journal as its source.
Hospitals want a reevaluation
"It's a new method and we have seen a number of unwanted pregnancies, so we are reporting this to the Medical Products Agency," Carina Montin, a Swedish midwife, said to the news agency Siren in January, according to the Swedish newspaper Aftonbladet.
By 2015, the Advertising Ombudsman in Sweden forbade Natural Cycles from advertising its product as a contraceptive. Instead, the company had to present it as a fertility meter, something that women can use if they plan to become pregnant.
Since it was certified by the German company Tüv Süd last year, the producers are once again selling it as a contraceptive.
But hospitals want to revisit this issue. Now the Medical Products Agency will consider the documentation behind the app.
Nevertheless, the founders of Natural Cycles believe that it's not that surprising there have been unwanted pregnancies. The app is not promoted as being one hundred per cent effective.
"With a new and popular contraceptive on the market, you have to expect unwanted pregnancies," wrote company founders Elina Berglund Scherwitzl and Raoul Scherwitzl in a statement to Aftonbladet.
The company's founders say they will cooperate with the Medical Products Agency during its enquiry.
The company did not provide a comment to forskning.no for the purposes of this story.
From Higgs boson to ovulation
It seems an unlikely genesis: the founders of Natural Cycles are Nobel Prize-winning physicists and a couple. The Scherwitzls are Swedish and Austrian and have both worked at the research collaboration CERN. They were among the researchers who discovered the Higgs boson in 2012.
Since then they have benefited from contraception. The company Natural Cycles currently has around 20 employees and is worth SEK 1 billion, according to the blog of co-owner Isabella "Blondinbella" Löwengrip. The app costs SEK 99 a month, and the company sells thermometers for the measurements.
The mathematical algorithm that the couple created relies on the measurements of an individual's body temperature to detect a pattern based on tiny changes. Around ovulation, a woman's body temperature rises just a few decimal places. As women chart more data over time, the calculations will be more accurate.
But cycles can be irregular and the body's signals may be unpredictable or difficult to read. Then you can get pregnant even though your app gives you a "green light".
Abstinence is the only guaranteed prevention method
A major study from last year of more than 22,000 users of Natural Cycles, most of whom were in Sweden, shows that women were no more likely to get pregnant than individuals on birth control pills, even if women used the app incorrectly.
Around 8-9 per cent were likely to get pregnant during the first 13 months of using the app, depending on how those numbers are calculated. By comparison, about 9 per cent of birth control-pill users get pregnant during the first year of use, according to an overview by American Contraception Technology. However, another US study showed that among those who used pills, patches or birth control rings, less than 5 per cent got pregnant in the first year.
Marius Johansen, a physician at Norway's Sex and Society, a centre for sexual and reproductive health and rights, says one of the biggest challenges for women using the app is that they have to be very structured and careful.
"If it's going to work, a woman must be able to record all information into the app every day, refrain from unprotected sex when she is supposed to, and not be so concerned if she gets pregnant. It's not for everyone," he said.
The producers of Natural Cycles say that the app will light red on average ten days during each menstrual cycle. On other days, you should be able to have unprotected sex.
But how safe are these "safe periods", really?
Not very, Johansen says.
Madsen says that fertile days are difficult to predict, and mentions a study from 2000 that estimates that women have at least a 10 per cent chance of becoming pregnant for 16 of the days in their monthly cycle.
-------------------------------------
Read the Norwegian version of this article at forskning.no.
Related content