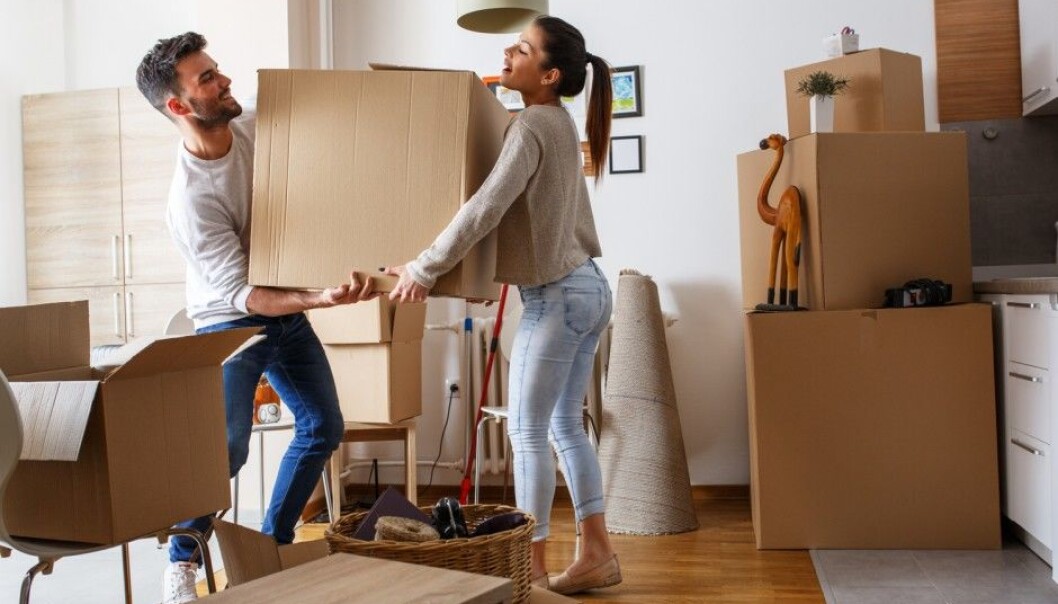 Contacts more important than rich parents for nest-leavers
Young people who have a larger network move out of their parents' homes earlier.
It's not all about money. Contacts are very helpful when young adults move away from their childhood homes, according to a Swedish doctoral dissertation.
One in four young Swedes finds a residence via contacts.
"An extensive contact network can give you information about vacant apartments, both through the web and elsewise. But it also ensures that lots of people know that you are a person who can be trusted," says Sociologist Anton Andersson in a press release from Stockholm University.
He analysed interviews of 2,244 young adults age 22 and 23 from all over Sweden.
References please
Two out of three had moved from home when interviewed.
The odds in favour of leaving the nest at this age are a bit higher if the young adults know loads of people.
Among those with few contacts, 34 percent at this age live at home with a parent or parents. The comparable figure for those with a wide network of contacts was 27 percent.
The researcher defined a wide network of contacts as knowing people in various segments of society, or in a wider variety of jobs. The researchers asked the young people whether they knew anyone with jobs in a list of 40 professions.
Having many contacts is not enough, however. Young people have to make use of their friends and acquaintances. Those who know many others do this more frequently when looking for a place to live in a tight housing market.
"These are interesting results. There are reasons to believe that a social network is also important in the Norwegian rental market," writes Sociologist Hans Christian Sandlie in an e-mail to ScienceNordic's Norwegian partner forskning.no.
Sandlie coordinates housing research at Norwegian Social Research (NOVA), part of the Oslo and Akershus University College of Applied Sciences (HiOA). He has also studied the process of moving out of childhood homes.
The sociologist is unaware of any comparable study of the role of contacts when young Norwegians leave the nest. But he thinks the Swedish study applies to Norwegian conditions too.
"References are probably important in a rental market where there are lots of small players who rent out part of their own residence or an extra dwelling they own. Members of certain vulnerable groups in society can have trouble finding a place to rent when they lack references and acquaintances."
According to Statistics Norway's (SSB's) Standard of Living Survey from 2015, nearly nine out of ten Norwegian 16– to 24-year-olds who do not live with their parents were in rented housing. The remaining tenth own their own residences.
Helps for a sub-rent
The Swedish study charted whether the young adults lived at home or moved out, and if so, to what kind of housing. The young adults also explained how they found a place to live.
Having contacts primarily helped these young people's chances of finding a sublease, in other words a flat that someone they know was renting and who sublet it out to them. However, just six percent were living in such subleased apartments.
Six out of ten of those in sublet flats say they were tipped off by contacts. This indicates that it also helps to know the right people if you want to access something outside the formal housing market. Although few live in sublet flats, these can be an alternative for young people in Sweden, where, like in many Norwegian cities, there is a shortage of affordable housing that matches their needs.
Standard rental agreements and purchases of dwellings are also to a certain extent linked to personal contacts.
Contacts can also be important for the first job, shows another Swedish study.
Nest-leavers with rich parents
The researcher found that variables such as gender, number of siblings, immigrant background, education, and place of residence had no impact on the results. He also assessed the incomes of the young adults and their parents through Swedish tax records.
Having rich parents did not seem to help much – young adults from wealthy homes are not any speedier in moving out than others.
However, the study did not investigate which contacts the parents had. Mum and Dan can play a big role by knowing someone who can help their grown children. Young adults who live near their parents, at least, use contacts to find a place to live more frequently than those who live far from their parents.
Your own income is an important factor, of course. Young adults who are making good money are more likely to move out of the family home.
Parents help them buy a place
Although the incomes of parents have little impact on when their grown children move out, wealth plays a big part in what type of housing they get their hands on.
When leaving the nest, young adults with rich parents are more likely to buy a flat than rent one. This would indicate that they get help from their parents.
In just a few years in Norway it has become twice as common for home buyers under the age of 40 to recieve economic assistance from their parents. This was seen in statistics from 2008 to 2013 analysed by Sandlie and a colleague.
Effect on job opportunities
Those who live at home with both parents move out later than others. Young adults who already have their own children are also more likely to move out.
Young adults who stay in the nest for a longer time can be undermining their chances of landing a job or starting studies, thinks Anton Andersson. Perhaps such opportunities are absent in the areas where their parents live.
Other studies from other countries have pointed to the connection between work, studies, starting a family and the age at which young adults leave their family home, says Hans Christian Sandlie.
But the influence could just as easily go the other way, the Norwegian sociologist points out. It would seem to be a two-way street.
"Lacking a job, studies, or not starting one's own family can also contribute to the young adults living longer at home with their parents."
-------------------------------------
Read the Norwegian version of this article at forskning.no
Translated by: Glenn Ostling
Scientific links
External links
Related content