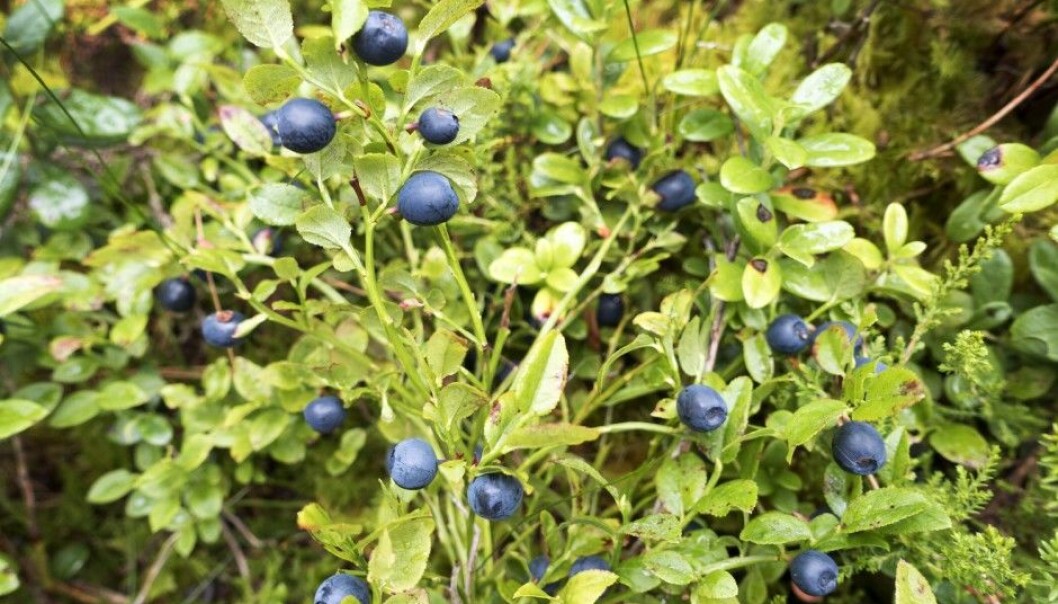 Big trees a threat to popular berries
The trees in Swedish forests are growing taller and denser through forestry practices but their growth comes at the expense of bilberry and lingonberry forest floor vegetation. Should pickers start worrying?
The number of wild bilberry shrubs is diminishing in Swedish forests, according to the Swedish University of Agricultural Sciences (SLU).
Bilberries resemble and taste much like the American blueberries you find in grocery stores but they are a different species. This year's annual forest report states that since 1999 in woods where forestry is permitted, bilberry shrub numbers have decreased by 20 percent.
"More trees, and larger trees, makes for intense competition," says Jonas Dahlgren in a press release from SLU.
Dahlgren works at the Swedish National Forestry Inventory, which assesses the country's extensive wooded areas annually.
Dark forest
"Light is the problem," explains Rolf Nestby, a senior researcher at the Norwegian Institute of Bioeconomy Research (Nibio), a man who is well acquainted with the conditions these berries require.
"You typically find bilberries in clearings where there is more light. The shrubs can be found in dense spruce forests, but they almost never have berries," says Nestby.
The Swedish report on bilberry and lingonberry stands excludes national parks and nature reserves. But the problem with overgrowth is in clearings, such as those made after trees are felled, according to Nestby.
"Things are okay to start with when foresters replant. It takes ten years before the new trees are of much size and maybe 20-30 years before the bilberry shrubs no longer produce berries."
Record last year
Even though numbers of bilberry shrubs have diminished in recent years, in 2016 there was a huge amount of berries in the Swedish forests. A total of 639 million kg amounts to 60 kg per Swede.
These amounts vary from year to year. Both 2012 and 2015 were good years for pickers in Sweden. But in 2011 the forests produced only 266 million kg of bilberries.
Norway also had a plenty of wild bilberries [also known as whortleberries] last year, according to Nestby – at least from what he could assess in Nord-Trøndelag County, where he lives.
Local conditions have a big impact. Bilberries are not fond of draughts, nor of too much rain. In particular, it shouldn't rain excessively in the periods when insects are pollinating the shrubs.
Money from berries
Nobody in Norway assesses the growth of bilberries systematically, as the Swedes do.
Nestby thinks this is because Sweden has developed a commercial trade in wild bilberries. Every year, hordes stream into the Swedish forests to pick berries for their own consumption or for sale. Nestby asserts there is little interest for this commercial trade in Norway.
He explains that forest density and amounts of the shrubs on the forest floor are not the only factors impacting berry proliferation.
If spring comes early and the bilberry shrubs bloom prematurely, the flowers can be harmed by frost.
Many takers
If a winter brings insufficient snowfalls, the flowers can also be jeopardized because they have nothing to hide beneath in the transition to spring. Sometimes the bilberry shrubs simply need a year to reconstitute before blooming again.
Animals including red deer and wood mice like to eat bilberries. And moose are particularly fond of munching on the foliage when the shrubs are studded with tasty blue treats, according Marcel Schrijvers-Gonlag, a research fellow at Norway's Hedmark University of Applied Sciences.
Still plenty left
Although the berries are important for the entire ecosystem, Rolf Nestby is not apprehensive about the setbacks of the shrubs in Sweden.
"This isn't a problem yet. There are still plenty of bilberries in the forest," he says.
But a setback can be important to those who make money off the berries.
"It becomes more costly to harvest them because it requires more walking around. But this is not a big problem for most people."
-------------------------------------
Read the Norwegian version of this article at forskning.no
Translated by: Glenn Ostling
Scientific links
Related content