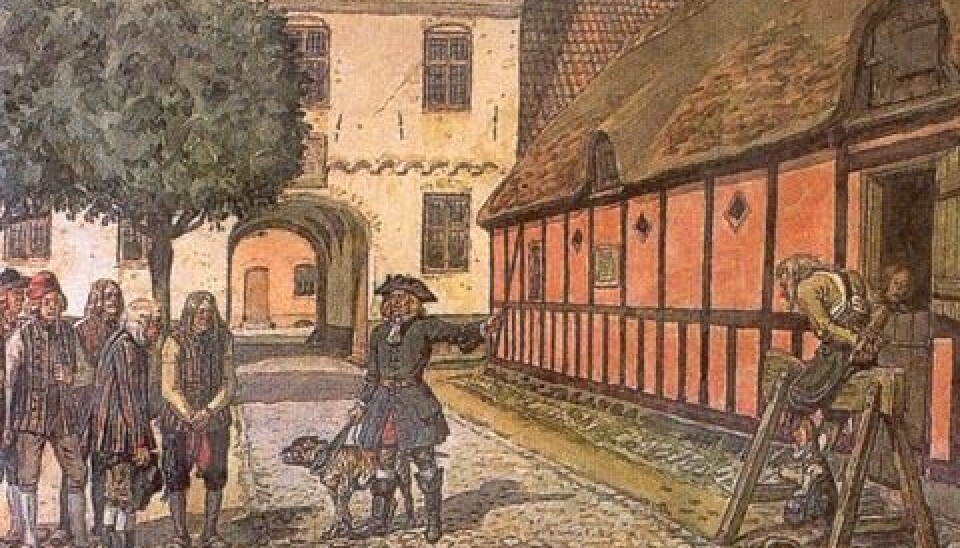 1668: Danish man tortured for New Year fireworks
New Year's shenanigans go back a long way. Here's the story of a Danish tailor, who in 1668 was tortured for letting off fireworks on New Year's Eve.
The sound of cracking and popping, the distinctive smell of powder and weird behaviour have long been part of our way of celebrating New Year in the West.
In fact, the first evidence of New Year's shenanigans dates all the way back to the 17th century.
The Danish State archives include minutes of the Elsinore town council from the 1600s. One of these minutes tells a rather odd story from the morning of New Year's Day in 1668.
"This is the oldest example we know of in which a private individual lets off fireworks on New Year's Eve," says Charlotte S. H. Jensen, a folklorist and Christmas archivist at the Danish State Archives.
The story is about a Danish tailor named Christen Simmensen. He lodged a complaint to the authorities because he had been punished for his New Year celebrations.
A shot or two – 90 minutes of torture
The morning after New Year's Day in 1668, Simmensen went outside his house and fired his gun up in the air 'in accordance with tradition' to celebrate the New Year in honour of the Royal Household.
"Suddenly soldiers came to Simmensen's house and asked if the shot came from him. He admitted that it did and the soldiers then dragged him away," she says.
This all happened so quickly that the tailor only managed to get one shoe on. The other foot still had a slipper on it.
As a punishment for firing his gun, Simmensen was placed on a so-called wooden horse, a torture device which is extremely uncomfortable to sit on because the horse's back has a sharp point that the victim is forced to sit on. This could result in serious injuries to the crotch and could leave the victim unable to walk without pain.
He was left to sit there for no less than 90 minutes.
May be an even older tradition
In his formal complaint, Simmensen pointed out that he had always done his duty by paying his taxes.
"He's really been angry," says Jensen.
When he wrote in his complaint that he shot up in the air 'in accordance with tradition', it may indicate that in those days it was regarded as an old custom to celebrate the New Year with a shot or two.
"But maybe he was just referring to his own or local traditions," she adds.
So we can't say for sure whether private New Year fireworks in Denmark date back to the 1600s or whether the tradition is even older.
In any case the story about Christen Simmensen is the first documented case of New Year's antics by ordinary Danes.
The document is on display at the State Archives in Copenhagen in the first week of 2013.
------------------------------
Read the Danish version of this article at videnskab.dk
Translated by: Dann Vinther
External links
Related content