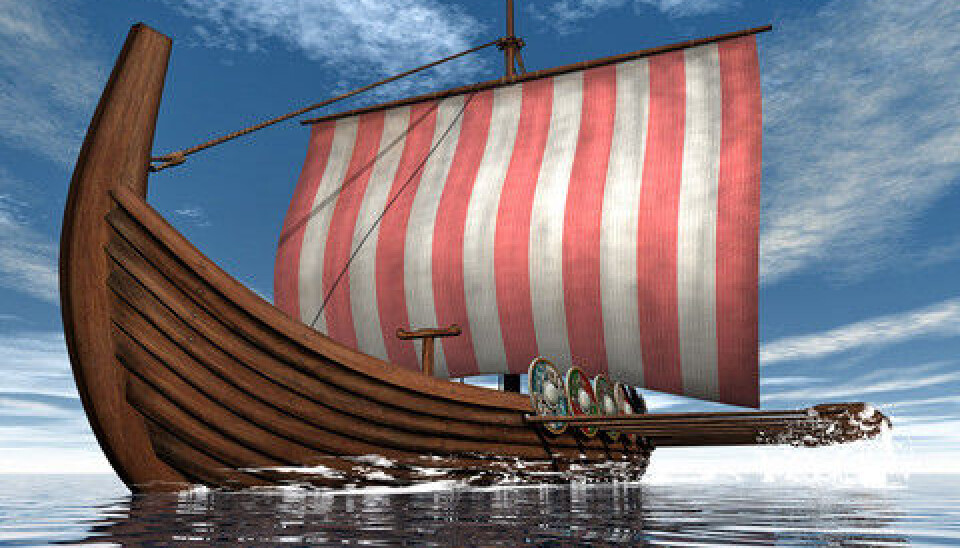 The first Danish kings were pirates
Medieval pirates and buccaneers founded Denmark. A new project investigates who the pirates really were and how they affected the formation of the Danish kingdom in its infancy.
Piracy and looting were an integral part of life at sea between 800 and 1400 CE.
During this time, the Vikings, sailed and fought their way around Europe, and made the sea a treacherous place to be.
"You raided to become the richest and to become powerful. But at that time, piracy included many different kinds of activities and was not always a criminal act. It could mean assault and robbery, but it could also mean conventional warfare or revenge," says Thomas Heebøll-Holm, assistant professor at the University of Southern Denmark.
In a new research project, supported by the Danish Council for Independent Research, he will explore who these pirates really were, where they came from, and what impact they had on the formation of the ancient Kingdom of Denmark.
"Essentially, Viking raids between 800 and 1000 CE funded the building of a Danish royal power," says Heebøll-Holm.
"At the same time, the threat of foreign pirates in the 1300s played a significant role in the creation of the Kalmar Union in 1397 CE, when Denmark, Norway, and Sweden united under Queen Margrethe I," he says.
See where the vikings travelled in our interactive map.
The Vikings were pirates
Heebøll-Holm became interested in piracy on the high seas during his doctoral thesis on French and English pirates in the 1300s.
One particular group that he will study is the Vikings. History books describe them as something to be proud of in Scandinavia, but to many others they were perceived as a group of vicious pirates.
"The Vikings were largely seen as a group of people who sought to gain power over ships and land through violence. One of the ways to gain power at home in Denmark was to trade and plunder elsewhere, and this could be violent. Contemporary monks in Europe who wrote about the Vikings were certainly quite appalled by their behaviour," says Heebøll-Holm.
Fighting: team building for Vikings
According to Heebøll-Holm, violent power struggles back in Denmark, in particular between 800 and 900 AD, prompted Viking raids and conquests.
"It seems that there are some internal disputes regarding royal power in Denmark at this time. Some want to unite the regions of Denmark--Jutland, Zealand, and the many Danish Islands--with southern Sweden and perhaps Norway, under one crown. In doing so, they force their opponents to escape abroad," he says.
"With violence and power they had banished enemies to new lands who enriched themselves through their pirating and Viking expeditions. Some of them returned to Denmark with money and prestige and tried again to fight for power. This subsequently forced others into exile," he says.
The winners and losers, which arose out of the struggle for power, played a major role in the early establishment of the Danish kingdom. Both Harald Bluetooth and Svein Forkbeard undertook pirate raids against other countries like England to expand and consolidate their power.
Successful Viking kings could attract more fighters and become even more powerful by generously sharing out the spoils of their raids.
"The new king had to find something to unite his warriors—a good 'team-building activity' if you like. This could be to go abroad and find someone to attack. You could also collect some money in the process," says Heebøll-Holm.
"This makes the king popular as everybody loves a winner, but only as long as it ensured a steady influx of plunder," he says.
Aristocrats were once pirates
Nils Hybel, an associate professor from the Saxo Institute at The University of Copenhagen, is an expert in the Danish Middle Ages. He agrees with Heebøll-Holm that piracy forms an important basis for the development of the Danish monarchy and the associated apparatus of power and authority.
"Piracy in Viking times was an important means to forcibly take the property of others in order to increase your own wealth and gain political and military power. And it was here from these Vikings that the Danish elite and aristocracy developed," says Hybel.
The chaos that led to conquest and looting of the sea also brought with it, a more organised society. Several of the measures that were established then are still in place today in western society.
"I wouldn't hesitate in calling the Middle Ages the most important period for the intellectual thought that underlies the basic structure of the West," says Heebøll-Holm.
"For example, piracy and the early days of territorialisation has laid the foundation for our perception of what resources individuals may use to expand and defend their business and interests," he says.
"The Maritime and Commercial Court, the laws of war, and a whole lot of other things that we take for granted, were formulated back in the Middle Ages," he says.
---------------
Read the Danish version of this article on Videnskab.dk

Translated by: Catherine Jex
Scientific links
External links
Related content