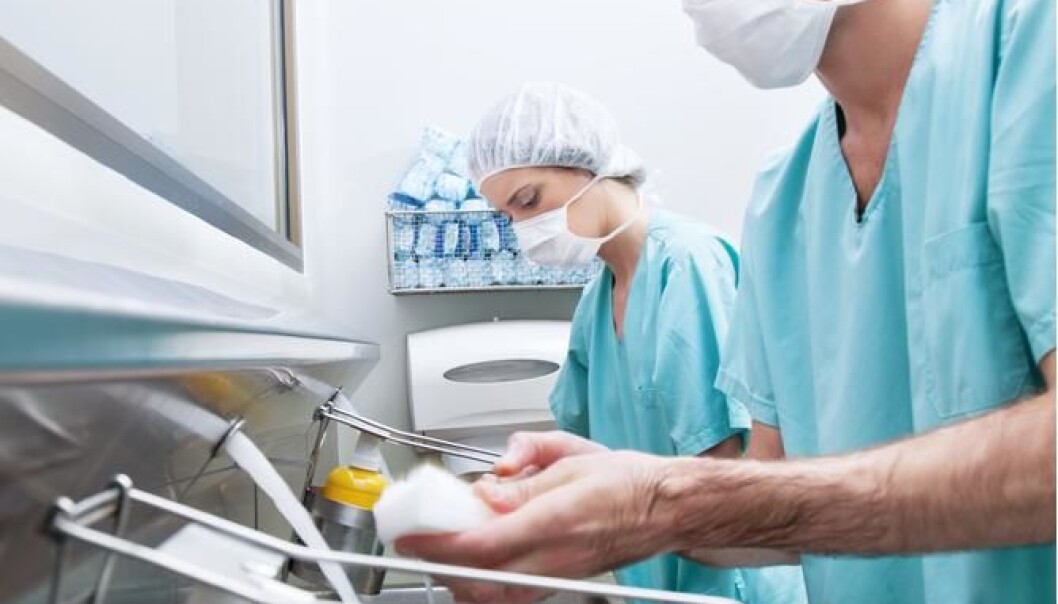 One in five surgeons forgets to wash hands after going to the toilet
A group of researchers examined the hand hygiene among surgeons attending an American conference and the results were not impressive.
One in five surgeons fails to wash hands after going to the washroom.
That's the conclusion of a new field study conducted by Danish researchers at a conference for surgeons in USA.
"This is a rather surprising result, considering it concerns surgeons," says Dr. Henrik S. Jørgensen, who is the deputy chairman of the Danish Society of Surgeons. "It's unsettling because you'd think that doctors in particular ought to know better."
He points out that poor hand hygiene can lead to contagion and serious infections among hospitalised patients.
Jørgensen was not involved in the new study.
Doctors can infect patients
According to the new study, published in the latest edition of the Danish weekly medical journal, Ugeskrift for Læger, it is estimated that approximately seven per cent of all hospital patients contract an infection during their hospital stay.
"Good hand hygiene is regarded as one of the most important methods of avoiding this type of infection, although it is difficult to maintain good hand hygiene among staff," write the authors in the study.
Study co-author Jacob Rosenberg is surprised how poor the surgeons' hand hygiene turned out to be at the American conference.
Out of the 50 observed visits to the lavatory observed at the conference, ten people did not wash their hands after going to the lavatory.
"This is extremely worrying and it is not acceptable," says Rosenberg, who is a professor of medicine at the University of Copenhagen and a surgeon at Herlev Hospital in the outskirts of the Danish capital. "You could argue that hand hygiene isn't so important so long as the surgeons are just attending a conference, but if they behave in the same way in their everyday lives as medical practitioners when they're dealing with patients there's a risk of infection."
Not known whether Danish surgeons do the same
Rosenberg emphasises that it is not known whether Danish surgeons practice such poor hand hygiene as the participants at the American conference.
"It is by no means certain that the result applies in Denmark. It would probably be a good idea to repeat the experiment to see whether or not it's the case," says Rosenberg.
Jesper Durup, chairman of the Danish Society of Surgeons, don't believe there's any reason to fear that Danish surgeons forget to wash their hands before they operate on patients.
"The study focuses rather quirkily on a vast problem: that we generally need to improve hand hygiene in the health sector," says Durup, who is a surgeon at Odense University Hospital. "Conversely, I would say that if you come to Danish hospital as a patient you can be quite certain that all Danish surgeons wash their hands before they start operating."
Indirect infection may be a problem
Jørgensen points out that in Denmark there are firmly established procedures for how surgeons are to wash and cleanse their hands and arms before performing surgery.
"It's deeply ingrained in surgeons to ensure sound hygiene. It's probably not a problem of washing hands before an operation but rather when doctors are involved in other forms of contact with patients," says Jørgensen.
For example, he says, when a doctor delivers a brief message and perhaps touches the patient's bedside table or their medical records -- and by doing so picking up bacteria which are then passed on to the next patient.
Nurses have better hand hygiene than doctors
"There has been a lot of focus on hand hygiene at Danish hospitals in recent years," says Jørgensen. "There is a tendency of doctors not being as good as nurses when it comes to hand hygiene."
He explains that doctors' hand hygiene could lag behind that of nurses because in many cases doctors only give patients brief, verbal messages -- and therefore may well forget all about hand hygiene when moving onto the next patient.
"This may not be perceived as 'doing something' to patients, while nurses often have to wash them, give them dressings and the like. This form of actual contact may make nursing staff more aware of and hygiene," says Jørgensen.
Writers have better hygiene than surgeons
The study authors did not limit themselves to only spy on the surgeons' washroom etiquette. Later, they repeated the experiment at another conferences for medical writers at the American Medical Writers Association in Sacramento.
"We chose this particular conference because the participants were likely to be well-informed about the evidence and importance of hand hygiene in the health sector, but would be expected not to be accustomed to the clinical routines of operation environments," write the researchers in their study.
Despite this, the medical writers demonstrated far better hand hygiene than the surgeons. Only one of the 50 observed participants did not wash hands after attending the washroom.
"A medical writer is generally highly educated, typically with a PhD or similar, whereas very few surgeons have a formal scientific education," was one explanation for the difference given in the researchers' article.
Study only included male surgeons
Another explanation might be that the observations only applied to men at the surgeons' conference while 40 per cent of the toilet users at the medical writers' conference were women.
"The difference in the gender distribution at the two conferences may have distorted the results," reads the study.
Rosenberg explains that there "weren't really any women among those attending the surgeons' conference.
"We had stationed a man in the men's washroom, where he stood straightening his tie over and over again. Meanwhile, he counted how many men wash their hands and how many didn't. We did the same thing in the ladies lavatory," Rosenberg continues.
The new study is included in the special Christmas edition of Ugeskrift for Læger where there's a focus on research of the less serious and more humoristic kind.
But although the study was intended as Christmas reading for the doctors, Rosenberg finds the result "very disturbing".
"What the surgeons are demonstrating is pure stupidity. So I really hope they don't do the same thing at their hospitals," says Rosenberg.
--------------
Read the original story in Danish on Videnskab.dk
Translated by: Hugh Matthews
Scientific links
External links
Related content