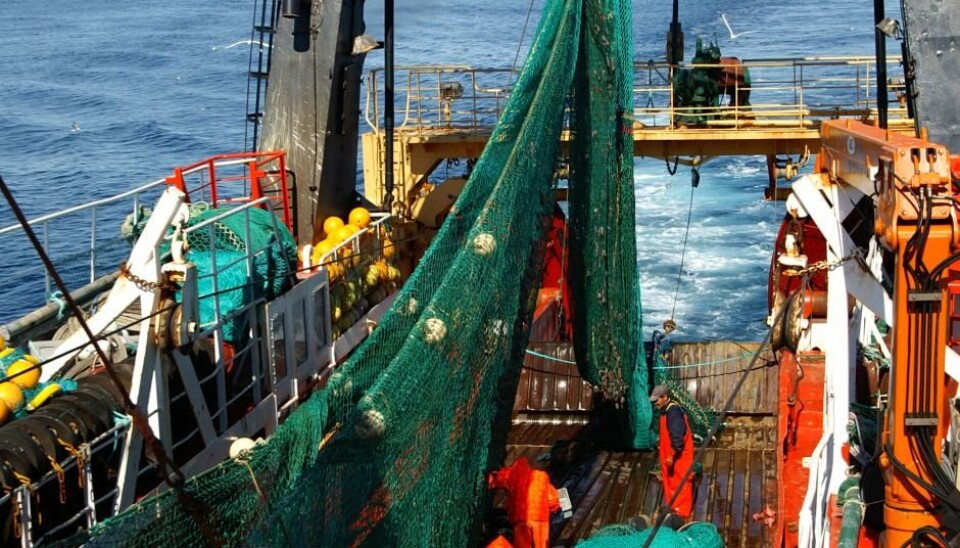 Scientists trace unknown ocean life from a can of water
Scientists have discovered a new method to map animal life in the deep ocean, using only DNA samples contained in a can of water.
Seventy-two per cent of our planet is covered by ocean, but while satellite imagery can document life above earth, and spacecrafts can send us photos of Mars, we still struggle with the basics of exploring life in the ocean depths.
"It's always annoyed me that you can only fish in certain areas where the sea floor has the proper conditions--it can't be too soft or too hilly," says marine biologist Peter Rask Møller from the Natural History Museum of Denmark at the University of Copenhagen.
"So there's some really big areas that we're never able to get any information from," he says.
That problem might now be solved.
New insights into life in the deep ocean
Using environmental DNA (eDNA), scientists have now shown that it is possible to produce a map of all the animals in the oceans, and how many there are, using water samples only. And it is relatively easy and cheap to do.
"From now on we can get a better overview of what's living in the deep ocean around the world. The method can surely be used to study future effects of climate change in the Arctic region," says lead-author Philip Francis Thomsen from the Center for GeoGenetics at the University of Copenhagen, Denmark.
Associate Professor Tobias Guldberg Frøslev from the Department of Biology, University of Copenhagen, agrees. He did not take part in the new study but studies eDNA as well.
"The study is really interesting and an important step on the way to implement the new DNA method to register and monitor biodiversity in our oceans, which are under enormous pressure from both fisheries and climate change," says Frøslev.
The method could be important to scientists as they try to understand and document changes to marine life caused by man-made climate change.
"There's a lot of interest and we've had inquiries from researchers from all other the world, who also want to use the method and understand how we do it," says Møller.
The study is published in the scientific journal PLOS ONE.
Swimming in fish DNA
DNA technology has become so advanced in recent years that it is possible to find tiny quantities of DNA in just a small sample of material.
In 2012, scientists showed that just a few water samples were enough to trace all the common sea animals living in the Øresund strait between Denmark and Sweden.
They also showed that DNA cannot survive in the water long enough to be transported long distances, so collected samples are representative of local fish populations and free of any interference from species living elsewhere, such as the tropics.
21 cans of water collected from the Atlantic Ocean
Møller and his colleagues joined the Greenland Institute of Natural Resources on their yearly trawler expedition aboard the research vessel R/V Paamiut in the Davis Strait in south west Greenland.
The research expedition forms the basis for population studies of many fish, including the commercially important halibut and redfish.
While monitoring fish populations, they also take water samples to measure water chemistry. So all senior scientist Ole Ankjær Jørgensen from the Greenland Institute of Natural Resources and DTU had to do was to keep some samples and freeze them until they could be analysed in Copenhagen.
They collected 21 samples from between 188 and 918 metres depth.
DNA matched fish catch
The scientists found that 26 out of the 28 species collected by the trawl were also represented in the DNA analyses from the water.
"Even though the samples were taken from a depth of almost one kilometer, they contained huge amounts of fish DNA, including important commercial species such as halibut and redfish--but also deep-sea fish such as slickhead, bullet tuna, and deep sea anglerfish," says Møller.
What's more interesting, says Møller, is that the biomass of trawled fish compares well with the numbers of eDNA sequences found in the ocean samples.
"The really exciting thing is that it's actually the most common species that appear in biggest numbers [in the DNA sample], so we have a semi-quantitative method," says Møller.
In other words, the method not only shows what type of fish are swimming around in the sea, but also, how many.
-----------------
Read the Danish version on Videnskab.dk

Translated by: Catherine Jex
Scientific links
External links
Related content