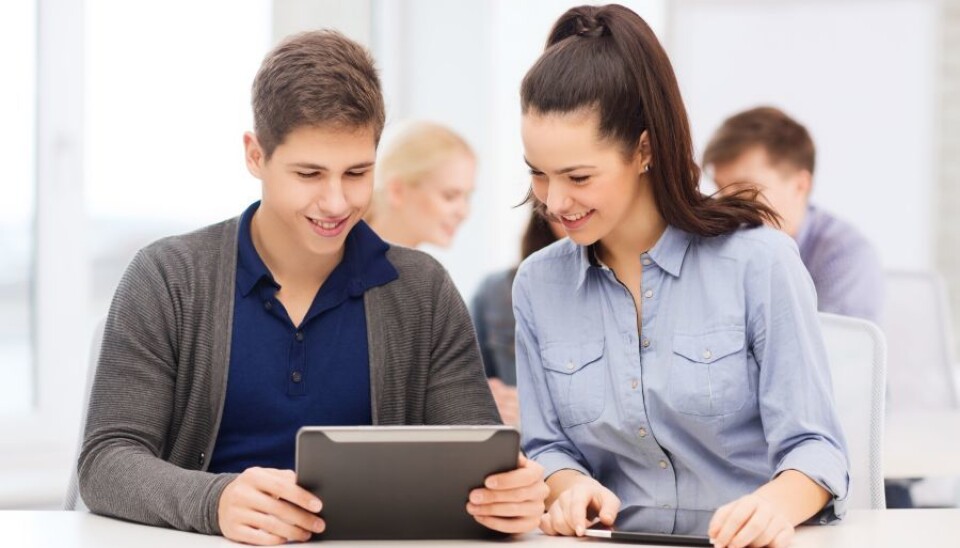 High school students say internet is bad for education
Researchers find that most high school students feel that access to the internet during classes spoils the lessons.
A comprehensive survey among Danish high school students shows they feel that their use of internet during classes is a large problem.
Of the 2,400 students asked in the survey, about half of them want the teacher to take control and switch the internet off so they are not tempted to go online, says Professor Helle Mathiasen, who conducted the survey, of the Centre for Teaching Development and Digital Media at Aarhus University.
"Many students said it would be good if the teachers had a switch-off-the-internet button," she says. "That would force the students to stop browsing Facebook or news sites -- they said they can't control it themselves."
Teachers should ban computers: students
Almost half of the students blamed teachers for their bad habit of browsing social media instead of taking part in class.
The internet brings many possibilities for new ways of teaching at high schools. For example, for teachers it's easier to help a select group of students with specific problems by chatting with them.
But there is a danger that the students will also chat to each other on subjects not related to the class.
"They're saying that the teachers should be tougher and more consistent," says Mathiasen.
Part from switching the internet connection off, some students even went as far as saying that computers in the classrooms should be banned.
"They said that otherwise they can't concentrate," says Mathiasen.
As one student expressed it:

"You can have a brief conversation on Facebook during a math class and when you look up again the blackboard is covered with symbols and numbers -- and you have no idea what's happened."
Students split over blame
While half of the asked students blamed teachers the other half were convinced that it's the students' own responsibility to maintain focus during the classes.
"They say they must learn not to let themselves be tempted -- although it can be difficult," says Mathiasen.
"Some believe that the problem can be solved by promising themselves 'a break' halfway through the lesson where they can log on to Facebook," she says. "Or quite simply by not bringing their computers with them in school."
Teachers expect computers on the desks
Problems can arise if too many students choose not to bring their computers to school. More and more teachers plan their teaching on the basis that the pupils have their computers with them.
"For example, teachers have used social media for guidance and process evaluations," says Mathiasen. "And the students form groups on Facebook where they help each other both at school and at home."
Computers are used in teaching and you can't just say 'log out and switch off' even though this is what many of the students want, she says. "Computers and the internet can be good tools for use in teaching."
Another perspective, suggests Mathiasen, is to let it be entirely up to the students. It might teach them to develop studying skills, self-discipline, responsibility, and the like.

Mathiasen believes that students who say that self-discipline is the solution to the problem have the most realistic attitude.
School association: strengthen the digital backbone
Anne-Birgitte Rasmussen, chair of the Danish Association of Upper Secondary Schools, is aware of the problem.
But she believes it's impossible to switch off access to the internet so high school students must learn not to browse the internet when it's not relevant for their teaching.
"Switching off the internet is impossible," says Rasmussen. "And even if we tried to do that, students can log on via their mobile phones."
She says it's necessary to go the long and difficult path, to raise the students digitally and give them what she calls a 'digital backbone'.
"They must understand that working without being online and taking part in class is sometimes the right thing to do. That's something students must be able to master," says Rasmussen.
Teachers, on the other hand, must be better at helping pupils build up their 'digital backbone'.
"The internet and social media are extremely tempting for the students and as a teacher you must take this into account," says Rasmussen.
She suggests that teachers discuss the online problem with the students and make a set of rules for when internet can and cannot be accessed.
-----------------
Read the original story in Danish on Videnskab.dk
Translated by: Michael de Laine
Scientific links
External links
Related content