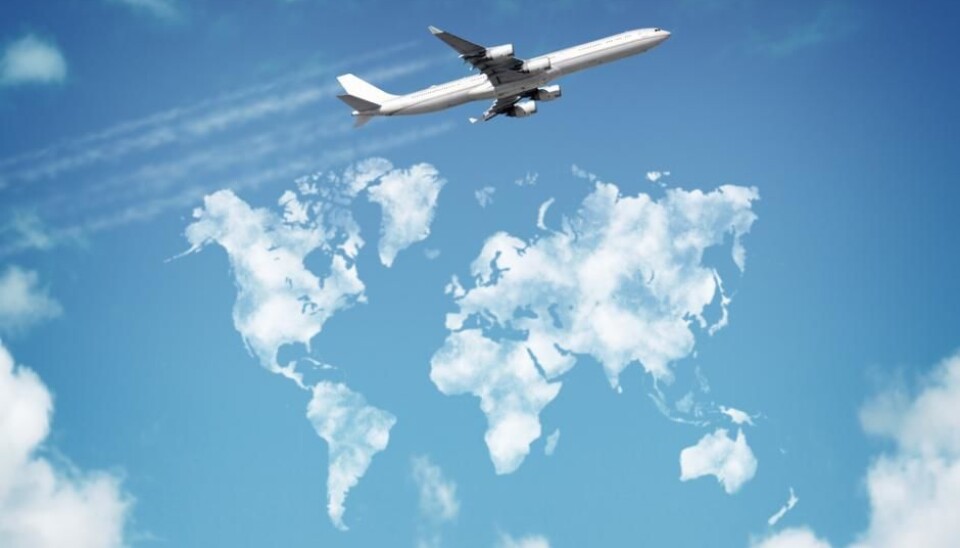 An open letter to Danish universities: Let us show the way towards a more ambitious climate agenda
The letter is signed by more than 650 academics from a number of research fields in Denmark. They are calling for universities to lead by example, and implement climate friendly policies in the workplace in the hope of inspiring change in other sectors.
On October 8, 2018 the UN's panel on climate change, IPCC, published its latest report.
It should be unnecessary at this time to emphasise the scope and gravity of the threat posed by human-caused climate change. But the report made it even clearer that it is vital to limit the increase in the global mean temperature to 1.5 degrees, and that achieving this goal will require radical political and social change on a global scale. If we do not start a global transition to a greener society immediately the consequences will be catastrophic.
Though many researchers at Danish universities are highly active in the debate on climate change, there is at present no ambitious climate agenda across these establishments. With this letter, we strongly encourage the university management to immediately develop and implement a series of far-reaching policies to drastically reduce the universities' carbon emissions.
The universities have a particularly heavy responsibility with regard to the implementation of an ambitious climate agenda, for three main reasons.
The letter is signed by researchers both inside and outside of climate research and has been sent to all management and boards of universities in Denmark. Their message is clear and concise: Universities can pave the way for an ambitious climate policy at the workplace. And hopefully inspire other sectors.
Firstly, researchers contribute to a particularly high degree of carbon emissions, especially by using air transport to travel to conferences. High emissions offer an equally large potential for reducing the researchers' climate footprint.
Secondly, scientific authority is a key topic in the fight against climate skepticism. Researchers cannot expect to be taken seriously in the debate on climate change if they do not themselves implement the measures they propose. We have to put our own house in order first if we want others to listen.
Thirdly, the universities are ideally suited to lead the fight against climate change by developing and testing innovative, interdisciplinary and evidence-based measures for reducing carbon emissions. If new solutions are not developed at the universities, where else should they come from?
Like any other large company, the universities have an obligation to assume their share of social responsibility towards their employees and the environment. Furthermore, as a place of learning, the universities have enormous potential for bringing about positive social change in the fight against climate change: through their contact with thousands of young students; teachers can cause a ripple effect throughout society. It is time for the universities to take this responsibility seriously.
We therefore demand that the management account for how it much it plans to reduce the universities' emissions, as well as the specific policies that are to be implemented to reach this goal, including technical, administrative, behavioral and pedagogical initiatives.
An ambitious and longsighted climate agenda, founded on clear, evidence-based goals for reducing carbon emissions, will necessarily comprise a broad spectrum of far-reaching initiatives, including:
drastically reducing flights and supporting climate-friendly alternatives
reducing energy consumption and investing in sustainable energy
investing in technologies that enable remote participation at international conferences
supporting environmental-friendly solutions at the universities' canteens and conference dinners
increasing waste sorting
With eager expectation, we await the university management's response to these global challenges.
-----
Signatories to the open letter, addressed to university management
More than 600 academics (656 at the time of publication) from universities across Denmark have signed the open letter, which has been sent to management and boards of universities throughout the country.
The list of signatories below, includes professors, lecturers, senior scientists, associate professors, postdocs, PhD students, and scientific assistants, from a range of academic fields.
Marc Malmdorf Andersen
Jens Friis Lund
Sophus Helle
Felix Riede
Anton Stahl Olafsson
Massimo Pizzol
Christian Fertner
Thomas Meinert Larsen
Mette Bendixen
Gregers Andersen
Nanna B. Hartmann
Jeppe Læssøe
Lauge Clausen
Michael Bom Frøst
Anne Leonora Blaakilde
Susanne Pedersen
Natalie Marie Gulsrud
Inge Røpke
Annette Bilfeldt
Lisbet Christoffersen
Sinja Rist
Mogens Rüdiger
Ida Theilade
Andreas Birkbak
Michael Søgaard Jørgensen
Lea Schick
Christian Kjær Jensen
Ida Mangor
Esben Bjerggaard Nielsen
Martin R. Nielsen
Charlotte Louise Jensen
Inge-Merete Hougaard
Katrine Vestergaard Petersen
Toke Haunstrup Christensen
Jonas Andreasen Lysgaard
Raune Frankjær
Rasmus Tyge Haarløv
Erik Mygind
Andrés Felipe Valderrama Pineda
Anders Winther Mortensen
Kasper Dalgas Rasmussen
Torsten Bøgh Thomsen
Simon Svane
Stefan Gaarsmand Jacobsen
Aske Skovmand Bosselmann
John Holten-Andersen
Jon Dag Rasmussen
Martin Høybye
Joeb Høfdinghoff Grønborg
Christian Remy
Mads Andersen
Ngoc Lam Trac
Birgitte Hoffmann
Adriënne Heijnen
Sigrid Nielsen Saabye
Peter Scholl
Kasper Ostrowski
Christian Clausen
Byurakn Ishkhanyan
Helene Nymann
Andreas Højlund
Dan Mønster
Jakob Steensig
Jens Christian Hillerup
Ethan Weed
Emma Louth
Katrin Heimann
Ida Selbing
Claus Bossen
Theresa Ammann
Andreas Lieberoth
Gordon Osterman
Valentina Matta
Peter Danholt
Lars Yde
Kevin Michael Smith
Prastudy Fauzi
Andreas de Neergaard
Karsten Olsen
Christian Steven Hoggard
Mette Løvschal
Malthe Stavning Erslev
Karsten Arnbjerg-Nielsen
Anette Høite Hansen
Søren Rasmussen
Kristian Kongshøj
Hjalte Jomo Danielsen Sørup
Cordula Vesper
Bjarke Vognstrup Fog
Mette Terp Høybye
Joachim Lund
Martin Rygaard
Rie Bloch
Nick Shepherd
Laura McAtackney
Hanna Dahlström
Julie Skrydstrup
Uffe Krogh
Henrik Grüttner
Ella Paldam
David Harvey
Søren Pold
Marie Louise Juul Søndergaard
Kristoffer Albris
Annika Pohl Harrisson
Jesper Borre Pedersen
Katrine Duus Terkelsen
Nina Holm Vohnsen
Kasper Tang Vangkilde
Cecilie Baann
Malthe Barnkob Lehrmann
Thomas Birch
Bodil Selmer
Fie Lund
Aron Daniel Fischel
Anders Sybrandt Hansen
Morten Birkved
Kristian Tylén
Line Marie Thorsen
Andreas Wieland
Richard Dewhurst
Alessio Boldrin
Cecilie Bay-Richter
Marie Kampmann Eriksen
Anders Damgaard
Andres Dobat
Baptiste Vandecrux
Joshua Cohen
Astrid Kieffer-Døssing
Michael Eilenberg
Christian Suhr
Jes Vollertsen
Cæcilie Kramer Kildahl Sørensen
Torben Larsen
Kathrine Liedtke Thorndahl
Cameron David Warner
Ivana Konvalinka
Søren Thorndahl
Vincent Maklawe Edjabou
Karin Buhmann
Ruth Pinto
Marlene Mark Jensen
Ditte Marie Reinholdt Jensen
Nynne Nørup
Nökkvi Sigurdarson
Carlos A. Segovia
Mads Kristian Reinholdt Jensen
Johan Sandvang Larsen
Raphaël Payet-Burin
Giorgia Faraca
Lotte Fjelsted
Sune Agersnap
Brandi S. Morris
Mette Bjerregaard
Maria Toft Möller-Christensen
Mahir Hrnjic
Laura Feldt
Martin Lehmann
Martin Rohr Gregersen
Christian Høgel
Niels Reeh
Martin Ledstrup
Line Mex-Jørgensen
Dietrich Jung
Thijs J. Maarleveld
Olav Hammer
Katrine F. Baunvig
Christian Førgaard Nielsen
Thorkild Nielsen
Cecile Kittel
Sally Anderson
Nadia Lund
Cecilie Bjerre
Helene Dyrhauge
Karl Haxthausen
Jakob Egholm Feldt
Rikke Høst Hammershøj
Thomas Budde Christensen
Reka Forrai
Sara Lerer
Casper Sylvest
Anette Warring
Mikael Rothstein
Line Mathiesen
Aske Hennelund Nielsen
Jesper Sørensen
Gregory Lemaire
Louise Thomsen
Stine Krøijer
Rebecca Rutt
Bo Fritzbøger
Kirstine Sinclair
Mikael Aktor
Anders Klostergaard Petersen
Heidi Birch
Hans Ulrik Rosengaard
Inge Stupak
Christian Pilegaard Hansen
Raffaele Rodogno
Roland Löwe
Peder Bacher
Vilhjálmur Nielsen
Dario Pozzoli
Antonia Erz
Ursula Plesner
Maribel Blasco
Raghava Rao Mukkamala
Attila Marton
Hubert Buch-Hansen
Irina Papazu
Jonas Hedman
Lars Thøger Christensen
Charlotte Brendstrup Simonsen
Trine Pallesen
Pernille Nielsen
Piret Liv Stern Dahl
Kristian Steensen Nielsen
Tor Hernes
Maria Paola Calsso
Cornelius Hedegaard
Niels Buus Lassen
Sönnich Dahl Sönnichsen
Sine Nørholm Just
Jonathan Schmidt
Pernille Martiny Modvig
Sofie Skovbo Gottlieb
Sophie Marie Cappelen
Susanne Boch Waldorff
Cristiana Parisi
Thomas Burø
Myriam Marending
Viktor Smith
Sverre Raffnsøe
Johanne Madsen
Mette Mogensen
Lucia Reisch
René Taudal Poulsen
Hans Krause Hansen
Maria Østerby Elleby
Kirstine Zinck Pedersen
Juan Ocampo
Lasse Folke Henriksen
Amelie Rosina Többen
Troels Michael Lilja
Cathrine Bjørnholt Michaelsen
Oliver Stefan Laier
Christian Hendriksen
Tina Müller
Joana Geraldi
Karl-Heinz Pogner
Laura Høvsgaard Maguire
Peer Hull Kristensen
Kirsten Stadil Bose
Bent Meier Sørensen
Trine Agervig Carstensen
Jesse C. Jones
Mark Lorenzen
Jakob Rømer Barfod
Lena Olaison
Martiina M. Srkoc
Stefano Ponte
Rasmus Kamstrup Bogetoft
Tali Padan
Kaitlin Busse
Leon Lerborg
Tara Qian Sun
Lisa Ann Richey
Liv Egholm
Sofie Østergaard Jensen
Anders Blok
Philipp Hukal
Elisabeth Naima Mikkelsen
Poul Poder
Alfred Reckendrees
Jan Kautz
Solveig Zophoniasdottir
Charlotte Flach
Alivelu Mukkamala
Nicholas Haagensen
Thorbjørn Fejerskov
Hannah Elliott
Ivan D'Annibale
Morten S. Thaning
Felix Wittke
Peter Koerver Schmidt
Marie Leth Meilvang
Dennis Schoeneborn
Mikkel Flyverbom
Christian Hviid
Sara Louise Muhr
Andreas Dimmelmeier
Majken Schultz
Maria Figueroa
Sof Thrane
Søren Brier
Thorben Peter Simonsen
Peter Holm Jacobsen
Arne Remmen
Robin Karsgaard
Stefan Sommer
Kai Basner
Christoffer Voigt
Morten Thanning Vendelø
Kristjan Jespersen
Carsten Humlebæk
Morten Borup
Jan Bauer
Adriana Budeanu
Raghavendra Selvan
Ole Nørgaard Helmersen
Seyed Ali Ghodrat
Mads Thybo Kastberg
Eva Bendix Petersen
Ann Bøttern Jensen
Tobias Hallundbæk Petersen
Nicola Ens
Erin Leitheiser
Julie Buhl-Wiggers
Ida Marie Malmkjær
Christa Breum Amhøj
Christina Berg Johansen
Marco Carreira silva
Tine Kondrup
Line Kühnel
Emil Husted
Rasmus Johnsen
Sune Darkner
Zartashia Ahmed
Florence Villesèche
Erik Dam
Charlotte Cator
Anne Agerbak Bilde
Ivan Olav Vulchanov
Mette Ellekrog
Tine Silfvander
Kaare Græsbøll
Mikkel Abrahamsen
Christina D. Tvarnø
Carolyn Rutherford
Daniel Ashbrook
Christoffer Rasmussen
Martin Rudbeck Jepsen
Katja Isa Sørensen
Emilie Da Silva
Jannick Friis Christensen
Morten Knudsen
Thomas Frick
Poul G. Hjorth
Lasse Blond
Kenneth Brinch Jensen
Camilla Mie Nilsson
Catarina Pessanha gomes
Anna Scedrova
Jacob Daniel Kirstejn Hansen
Irene Rosberg
Davide Giacalone
Aske Mottelson
Maria Barrett
Lara Monticelli
Louise Bruun Christensen
Cecilie Thrysøe
Joachim Delventhal
Eleni Tsingou
Søren Jeppesen
Stina Teilmann-Lock
Morten Ougaard
Anna Borges
Andreas Kamstrup
Oliver-Alexander Press
Daniel Hjorth
Christian Erik Kampmann
Dimitra Makri Andersen
Mathias Hein Jessen
Lavinia-Cristina Iosif-Lazar
Annette Risberg
Henriette Schleimann
Annaig Morin
Signe Bruskin
Christel Sølvsten
Antje Vetterlein
Tore Kristensen
Jakob Ravn
Saila Stausholm
Mads Bødker
Roddy Walker
Emilie Jallov-Haag
Isabel Kannegiesser
Leif Bloch Rasmussen
Christoph Ellersgaard
Vibeke Kristine Scheller
Anton Grau Larsen
Arisa Shollo
Susanne Beck
Ana María Munar
Helle Zinner Henriksen
Somdeep Sen
Kirsti Reitan Andersen
Louise Harder Fischer
Queralt Prat-i-Pubill
Daniel Borowczyk-Martins
Charles T. Tackney
Leonard Seabrooke
Stig Irving Olsen
Henrik Secher Marcussen
Leslie Christensen
Lori DiVito
Thea Sejr Hansen
Julie Uldam
Charlotte Hansen
Laura Horn
Mads Kogut
Dan Kärreman
Thomas Frandsen
Hanne Marlene Dahl
Sevasti Chatzopoulou
Holly McLaughlin
Peter Aagaard
Oda Hustad
Pedro Parraguez
Kristoffer Kropp
Peter Nielsen
Mette Johansen
Troels Schultz Larsen
Rasmus Willig
Kathrine Solgaard Sørensen
Molly Anne Occhino
Lindsay Whitfield
John K. Christiansen
Mogens Buch-Hansen
Anders Petersen
Indra Römgens
Jakob Vestergaard
Ea Høg Utoft
Lucie Alexanian
Erik Andreas Martens
Jesper Michael Møller
Karsten Bruun Hansen
Emil Eiby Seidenfaden
Niels Kornum
Torkil Clemmensen
Mads Ejsing
Katrine Maria Lumbye
Michelle Pace
Jørgen P. Bansler
Jacob Taarup-Esbensen
Lea Acre Foverskov
Lau Øfjord Blaxekjær
Jeremy Moon
Linde Frölke
Camilla Jensen
Kaspar Villadsen
Inge Kryger Pedersen
Liping Jiang
Lotte Holck
Peter Furu
Eva C. Sonnenschein
Mathias Paul Bjørnevad Jensen
Laura Elisabeth Svop Ahlqvist
Nina Elisabeth Torm
David Howoldt
Trine Tornøe Platz
Fabian Heinrich Mueller
Signe Uldbjerg Mortensen
Britta Gammelgaard
Oswin Krause
Kristian Roed Nielsen
Lars Tønder
Mette Bjerg Lindhøj
Henrik Madsen
Quentin Gausset
Adam Paulsen
Thomas Lopdrup-Hjorth
Karsten Bobek
Parnuna Egede Dahl
Stine Haakonsson
David Christensen
Rikke Dorothea Huulgaard
Yana Konstantinova Ramsheva
Jens Rikardt Andersen
Henrik Pedersen
Lars Ove Dragsted
Eileen Murphy
Nikolaus Sonnenschein
Anne Lundby Hess
Dorte Enggaard Steenberg
Lars Nybo
Maëlle Caussarieu
Thomas P Gunnarsson
Jan Holm Ingemann
Hanne Bjerre Christensen
Morten Penthin Svendsen
Heidi Simone Kristensen
Inger Stauning
Mathew Jessop-Fabre
Kristian Jensen
Martina Koegeler-Abdi
Frede Hvelplund
Liv Bjerre
Dorte Bratbo Sørensen
Magnus Paulsen Hansen
Alina Grecu
Yannick Buijs
Jacob Rasmussen
Mie Damborg
Søren Løkke
Mikkel Eskjær
Marta Matos
Helle Nedergaard Nielsen
Thilde Langevang
Matthew Archer
Kristoffer Marslev
Mads Rosendahl Thomsen
Jakob Gaardbo Nielsen
Lars Klingenberg
Jonas Ross KJærgård
Johannes Korsholm Poulsen
Sune Haugbølle
Mads Anders Baggesgaard
Karen-margrethe Simonsen
Tabea Ramirez Hernandez
Jakob Ladegaard
Sara Vardi
John Damm Scheuer
Alexandra Hoffmeyer
Henrik Friis
Lis Møller
Kristoffer Bach Falkenberg
Anders Krogh lemminger
Markus Herrgård
Wouter Kouw
Bastian Barker Rasmussen
Belinda Nors
Pernille Tveden-Nyborg
Ole Busck
Morten Ejrnæs
Mette Lykke Nielsen
Reinhard Stelter
Lars Oehler
Mette Pless
Arnt vestergaard louw
Marianne Brodersen
Christian Axboe Nielsen
Lisa Gjedde
Stine Vuholm
Birgitte Henningsen
Karin Levinsen
Andreas Lindenskov Tamborg
Jonathan Dahlin
Leonie Schlüter
Liv Graversen
Anne Görlich
Max van 't Hof
Shengda Zhang
Jens Hoff
Cecilia Milwertz
Monia Niero
Brian Strehlow
Freja Nygaard Rasmussen
Roberta Orlando
Nils Valdersdorf Jensen
Emil Rosenlund Høeg
Daniel Souleles
Hannah Marczinkowski
Mirjam Godskesen
Andrew
Crabtree
Duncan
Wigan
Noemi Katznelson
Johanna Hood
Tariq Andersen
Rikke Schubart
Susanne Köhler
Lena Mygdam Zwisler
Iva Ridjan Skov
Ole Michael Ruø Jensen
Lars Christensen
Malene Køster Lasthein
Marcel Bollmann
Trine Villumsen Berling
Ghita Dragsdahl Lauritzen
Annika Agger
Pernille Ladegaard Pedersen
Clara Vandeweerdt
Kenneth Nsah
Troels Krarup
Alejandra Zaragoza Scherman
Lindsay MacDonald Vermeulen
Sarah-Kristin Thiel
Ada Pastor Oliveras
Oana Vuculescu
Simple Futarmal Kothari
Jörg Schullehner
Regitze Kjær Zimmermann
Julie Falck Valentin-Hjorth
Jonathan Sholl
Daniel Lundgaard
Kai Kanafani
Dan Hirslund
Melanie Rosen
Simona Zetterberg Gjerlevsen
Sara Santamaria-Colmenero
Henrik Skov Nielsen
Eva Wulff Helge
Esben Søvsø Szocska Hansen
Sara Lei Sparre
Michael H. Feldballe Hansen
Ditte Thøgersen
Pernille Ott Frendorf
Niels Bjerre-Poulsen
Marcus Lantz
Anne Mette W. Nielsen
Anne Raben
Julie la Cour Karottki
Frank Sejersen
Yevgeny Seldin
Ryle Nørskov Gejl
Jannick Schmidt
Lotte Nymark Busch Jensen
Eugenio Molina-Navarro
Helena Kallestrup
Sara Tomiolo
Thomas Davidson
Nicolas Azaña Schnedler-Meyer
Hanne Knudsen
Peter Kromann Piil
Jenny Landberg
Lea Grosen Jørgensen
Wei Liu
Jeppe Kiel Christensen
Simon Nørby
Stavros Moutsios
Pernelle Rose
Jeppe Bundsgaard
Malou Juelskjær
Ronni Laursen
Anne Hovgaard Jørgensen
Oliver Alexander Tafdrup
Anne Larson
Gertrud Lynge Esbensen
Liseth Haastrup
Kristina Mariager-Anderson
Frederik Pio
Dorte Marie Søndergaard
Niels Rosendal Jensen
Jens Erik Kristensen
Dirk Michel-Schertges
Katja Brøgger
Lotte Darsø
Emil Smith
Bente Jensen
Daniel Kardyb
Morten Nissen
Eva Gulløv
Ib Ravn
Kari K. B. Dahl
Jesper Stilling Olesen
Related content