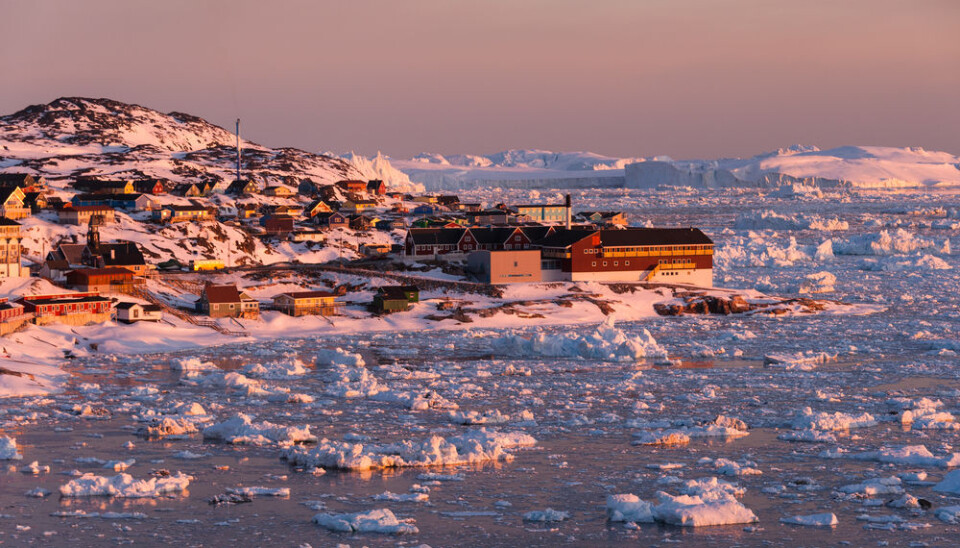 International conference brings climate change to Greenland
Climate scientists come together with citizens, industry representatives, and politicians in Greenland to discuss climate change in the Arctic.
Climate Scientists will meet with concerned Greenlanders next week in Ilulissat, Greenland, for a four-day international conference on climate and environmental change in the Arctic.
Several large projects on glacial melting and changing sea levels throughout the Arctic will be presented during the conference Ilulissat Climate Days 2015.
A large part of the conference is directly aimed towards sharing the new findings with the local community, politicians, and industrial leaders in Greenland in an effort to discuss all aspects of changes to Arctic ice conditions and its impacts on local communities.
"The first day of the conference will be open to the public and an interpreter will be present, so we're really trying to open the doors of the event to everyone," says one of the organisers, Rakia Meister, who is a postdoc researcher at DTU Space.
The conference is free and open for anyone in the local community to attend.
"Personally, I feel that it's very important to take an integrated approach to research, in which scientists engage with the public," says Meister.
"I'm hoping that the Ilulissat Climate Days will be a cross-disciplinary event in which the changes seen in Greenland and the Arctic are addressed from different angles, and which will stimulate interaction and collaboration between scientists, politicians, and residents," she says.
Climate change in a vulnerable area
Locals are already feeling the effects of melting glaciers and sea ice, and changing snow conditions, and the speed with which these are occurring is concerning scientists.
"We've seen an acceleration and intensification of changes in Greenland and the Arctic in recent years which are really surprising us as the changes are accelerating faster than we expected," says Tómas Jóhannesson from the Icelandic Meteorological Office where he leads the research group on glacier studies.
2012 was a record year for ice-melt across Greenland and local communities are facing environmental and regulatory pressures on their daily lives. This includes regulations on traditional hunting, fisheries, as well as big plans for future energy production and exploitation of Greenland's oil, gas, and mineral resources.
According to Jóhannesson, local interest in understanding the nature of environmental changes has grown in recent years, and at this meeting the scientists hope to raise awareness and provide up-to-date assessments of changes that will take place in the coming years.
"Climate change is impacting the Arctic regions in so many different ways. Of course the risk of flooding in coastal areas is increasing as sea level rises, but in some areas of Iceland and Greenland, relative sea levels are actually becoming lower as glaciers melt allowing the land to slowly rebound. In southeast Iceland, for example, this land rise is occurring faster than global sea level rise and so the main harbour of this area is now suffering as the sea becomes too shallow," he says.
"Elsewhere, the flow of rivers fed by glacial melt is increasing which means that hydroelectric power companies need to upgrade their systems to take advantage of these changing conditions. Industry and politicians need accurate scientific information so they can adapt and plan for their economic activities," says Jóhannesson.
Citizen science in the Arctic
The conference will not only focus on scientific results, but will also discuss how best to work alongside local communities to design and implement their research.
Lene Kielsen Holm, a researcher from the Greenland Institute of Natural Resources will lead a session to explore the implications of changing climate on Greenland society. She is particularly interested in how local people can be involved in climate change research.
"In my research [field], social science, we travel back and forth between the communities on Greenland and we communicate in the Greenlandic language so that we can understand and get an insight into their culture and way of life. It's very important to include local people and not just show up with your own agenda," says Holm.
"At the conference we will discuss this concept of co-research between scientists and the Greenlandic communities, which is quite new. We can design research together with local communities, and so address the important issues in their lives. Such as the large EU-funded project (ICE-ARC) where we the researchers, are documenting issues together with local people, helping to shape policy and to be mediators between locals and the politicians on the issues they face with changing climate," says Holm.
The conference runs from June 2nd to 5th. Members of the public are free to attend the first day and more information is available on the DTU website which you can find here.
Scientific links
External links
Related content