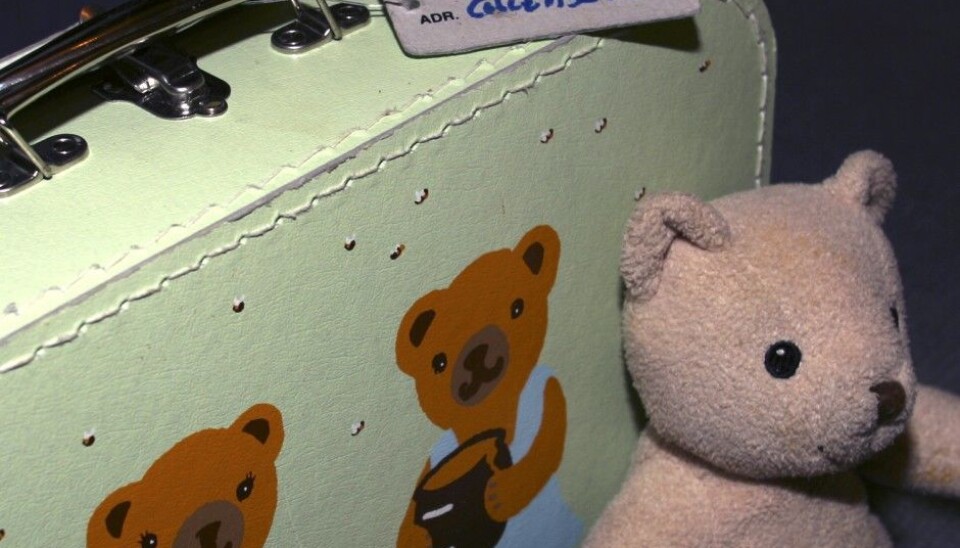 Children of divorce whose parents share custody do best
It may seem counterintuitive, but children who split their time between their mother and father after a divorce do nearly as well as children who live with both parents, a Swedish study shows.
Researchers from the Karolinska Institute and Stockholm University examined Swedish national survey data for information about the physical, psychological and social impacts of divorce on children. The clear finding was that shared custody was the best solution for the child.
"This is a surprising finding that is applicable to Norway," says Professor Stein Erik Ulvund, from the University of Oslo. He believes that Norwegian and Swedish society and cultures are close enough for the data to be transferable.
A wake-up call
"This is a little wake-up call for people who believe that one residence is the best solution for children of divorced parents, and that shared custody can be dangerous for children," Ulvund said.
He believes that long-standing negative attitudes towards shared custody are due to parents who have been overly concerned about the practical aspects of this kind of custody — without considering the best interests of the children.
Many professionals believe it is best for a child to have one home after divorce. Several psychologists have argued that children can be stressed by the hassle of living in two places, and that in the worst case, shared custody could create a rootless generation.
"Parents who share custody of their children should not feel bad about it," he says.
Everyday parenting has great value
"The problems associated with having to move between two parents seem to be subordinated by the value that the child gets from experiencing everyday parenting from both parents," psychologist Malin Bergström said to the online Swedish news site, forskning.se. Bergström was one of the study's authors.
The research in question involves 5000 children between ten and 18 years old, and was conducted at CHESS— the Centre for Health Equity Studies, which is a collaboration between Stockholm University and Karolinska Institutet.
The study showed that boys whose parents are divorced get the most out of having shared custody.
Ulvund thinks this may be because boys have a greater need than girls to have their father in their daily life.
Less stress than single custody children
Children in a traditional nuclear family setting generally did best, the researchers found, followed by children who lived in a shared custody situation.
The health of children who lived mostly with one parent was a little poorer than those in joint custody or in a nuclear family, while children who only lived with one parent had the most problems.
Children living alternately with their mother and father were actually less stressed than children of divorced parents who only lived with one parent.
They also had good relationships with friends. In addition, shared-custody kids were clearly most satisfied of all with their fathers.
"This may be because their fathers must in fact take care of them for half the time," says Bergström.
More sleep problems for kids of single parents
Difficulty sleeping was one of the health problems that the researchers examined.
Among girls who lived with both parents, 16 per cent reported problems sleeping, compared to 18 per cent in girls who lived in shared custody.
Twenty-three per cent of girls who lived mostly with one parent struggled with sleep problems, while that number was 26 per cent among girls who only lived with one parent.
Boys were generally less likely to have sleep problems. Just 10 per cent of boys in nuclear families reported problems sleeping, a number that climbed to 17 per cent in boys living with only one parent.
Parents have to cooperate
One reason that children who live with only one parent may have poorer health than children in other living situations is that they may simply miss the other parent, Ulvund said. Ulvund is also an adjunct professor at the Regional Centre for Child and Adolescent Mental Health at UiT— The Arctic University of Norway.
"Another issue is that kids are very loyal. Children who only live with one parent may feel it is very unfair that the other parent has disappeared from their lives. As a rule, this is generally the father," he said.
Another explanation may be that parents who have shared custody increasingly manage to shelve some of the issues that have caused conflict in the past, because it otherwise becomes increasingly unpleasant over time.
"They are forced to cooperate in everyday life to a greater extent than single parents," he said.
Children are less likely to be permanently harmed by divorce if parents manage to put their conflicts behind them and work together on caring for their children, a number of studies have shown.
Ulvund is also an adjunct professor at the Regional Centre for Child and Adolescent Mental Health at UiT— The Arctic University of Norway.
-------------------------------------
Read the Norwegian version of this article at forskning.no
Scientific links
External links
Related content