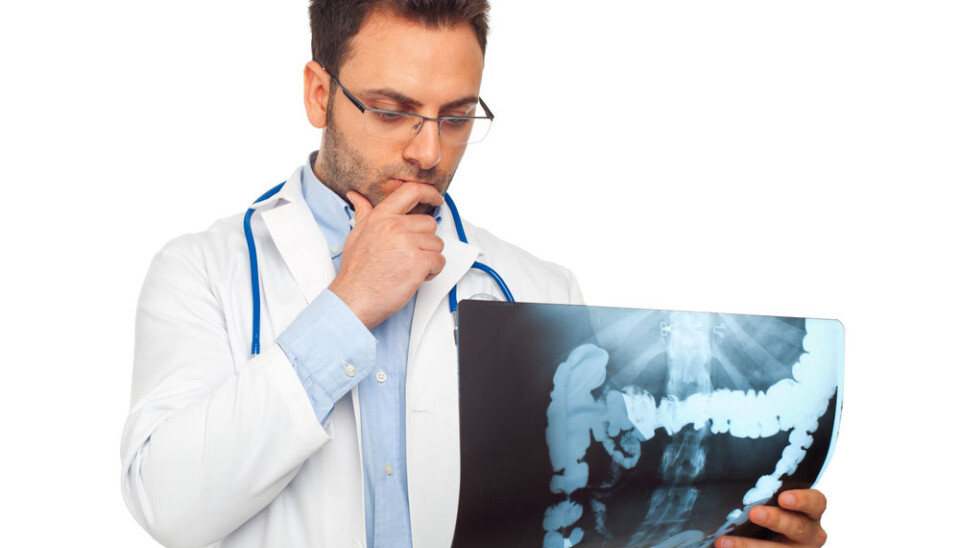 Colon cancer screenings turn away from faeces
Scientists seek to provide better colon cancer screenings by analysing blood samples instead of faeces.
Colon cancer screenings should not require you to hand in a small bag of your own faeces but should rather do with a simple blood sample.
That is the idea behind the Danish research project 'Novel CRC Screening Tools Improve Survival and Cost-effectiveness' (NOCRC), which aims to investigate if new technologies can catch more cases of colon cancer than the current test in which faeces are checked for signs of blood.
"We are currently limited to looking for blood in the faeces – and the blood itself isn't even a direct proof of cancer – it's only an indirect marker. What we want to do is look at specific cancer markers in the blood itself, since much seems to suggest this is a better method of discovering the illness in time," says NOCRC project-leader Professor Torben Falck Ørntoft from the Department of Clinical Medicine, Aarhus University.
Only half mail their own faeces
Every year, an estimated 2,000 Danes die from colon cancer while at least 4,300 new cases are discovered. The illness is often discovered too late, which contributes to the high mortality.
To counter this, the Danish Health and Medicines Authority is rolling out a free screening programme for all Danes between 50 and 74 years of age. By submitting a small faeces sample, participants can be screened for colon cancer.
Although the initiative is excellent, it also has its problems, says Ørntoft:
"We don't expect that more than half [of the targeted population] will take part in the screening programme. By default, that makes it a rather poor programme. Most likely the problem is that too many people simply find handling their own faeces too unsavoury."
Up to 90 percent likely to provide blood sample
Based on the low participant number alone, Ørntoft does not think the faeces test will be able to discover more than 25 and 30 percent of all colon cancer cases. The test isn't always very accurate either, he adds:
"Even if you take the test it won't always detect the colon cancer. Actually it can go both ways; sometimes the test will punch out signs of cancer but investigate closer and you won't find a thing."
The professor expects up to 90-percent participation with the new test since it only requires one blood sample. That alone will find many more cancer cases, he adds.
Blood test directly detects cancer
Whereas the faeces test looks for indirect signs of blood-secreting tumours in the bowels, the new technologies investigated by Ørntoft and his group will go straight for cancer markers in blood.
"The cancer cells release small molecules into the blood and we can use them to discover the illness."
The small molecules are pieces of DNA altered in one way or the other by the cancer. They may be broken or have a new molecule attached to them, both of which are well-documented markers for cancer, he explains.
While the altered DNA is only present in minuscule amounts in the blood, their unique tell makes it possible for the new technologies to detect them.
"We have a new set of markers and with the new technologies we can trace them in even the slightest of amounts. So there's a real possibility that we'll get something out of this project that can be used clinically in four years' time," says Ørntoft.
In two to three years' time, when he expects to publish the preliminary results, we will know which of the markers can detect the disease.
He expects more than 6,000 participants, making it the largest project ever to look at the specific cancer markers. The large number of participants will, incidentally, be thanks to the very same screening programme that Ørntoft's project seeks to replace.
Novel screening finds more cancer
The idea is that participants of the faeces screening programme, starting 2014, will be invited to give a blood sample as well. This will then be tested for blood-based cancer markers in one of the research programmes under NOCRC.
Ørntoft hopes that their new method will prove more accurate than the faeces test. But even if it only turns out to be just as accurate, he adds, it will still mean doctors are better off than before.
"We might end up with the same level of detection as we have now – and that could happen. But if the ease of using blood samples can get 40 percent more Danes to participate in the screening programme, then that's 40 percent more cancer cases we'll detect."
---------------------
Read the Danish version of this article at videnskab.dk
Translated by: Kristian Secher
External links
Related content