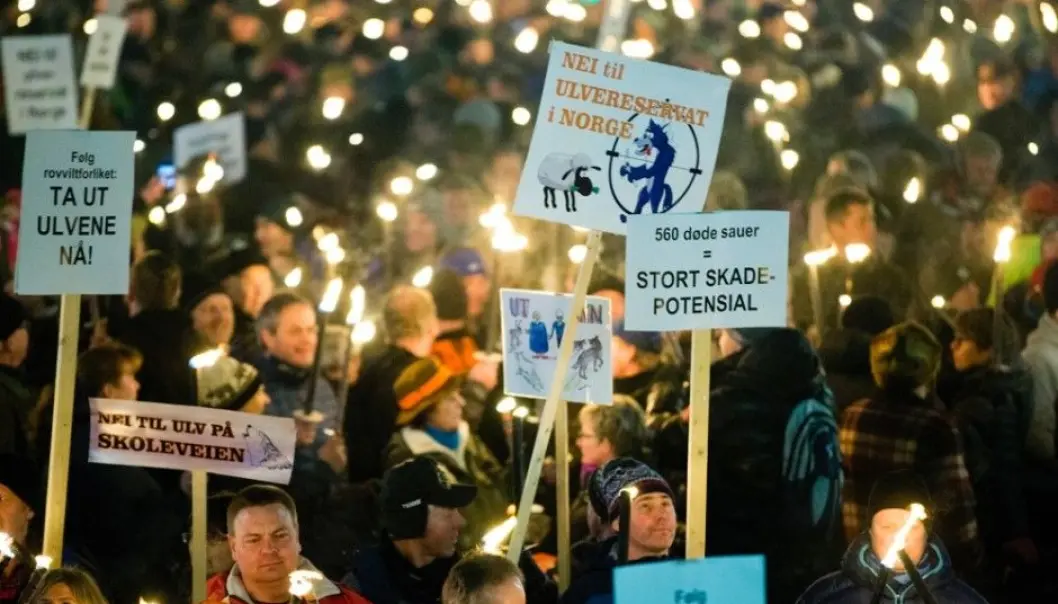 Why people protest against wolves
People in rural areas feel as if politicians don't listen to them—which translates into anger over wolf populations and may radicalize them.
Wolf numbers are on the rise across the Continent. But people aren't always happy about the return of a large predator, even one that has been listed as an endangered species in Scandinavia and through parts of Europe.
In Norway and in France, people are holding protests in the streets over wolf control.
In Sweden, however, frustrated hunters simply shoot wolves on the sly, hide the carcass and say nothing about it, says Erica von Essen, a sociologist from the Swedish University of Agricultural Sciences who has studied illegal hunting of wolves and other large carnivores in Sweden.
"Hunters are upset because they feel the system does not give them a voice," von Essen said.
She says wolf opponents feel that they cannot influence government policy. Instead, they believe all decisions are taken over their heads, in Stockholm and Brussels. They feel powerless.
"It has made them radicalized," says von Essen.
Most wolves in Sweden
Norway and Sweden share more than just a long border: they also share a growing wolf population that straddles the south-central boundary of both countries. There were approximately 430 wolves in this Scandinavian population in the winter of 2015-2016.
Relatively few of these wolves live in Norway. A preliminary count from 15 December 2016 showed between 63-67 wolves in Norway, concentrated in the southeastern county of Hedmark. These estimates were made by researchers from the Inland Norway University of Applied Sciences.
In 1966, wolves were considered extinct in the Scandinavian Peninsula, but in 1978, a pair came to Sweden from a population in Finland and Russia. Since then, the Scandinavian population has grown and expanded into Norway.
The big unknown on illegal hunting
Scandinavian predator researchers assume that somewhere between 10 per cent and 30 per cent of wolves in Sweden and Norway are killed by people. But no one really knows quite how big illegal hunting actually is.
In Sweden, the hunters von Essen has interviewed say that they generally oppose illegal hunting. But they also told her that illegally shooting predators, particularly wolves, is often seen as only solution in a desperate situation.
These hunters say they themselves have not shot wolves illegally, but that they "know someone who knows someone" who has.
The Swedish hunters that live on the Norwegian border who were interviewed by von Essen told her they have great respect for how Norwegians manage wolves. By this they meant that Norway, not the EU, makes decisions about population numbers.
However, these same hunters told von Essen that if Swedish wolves crossed the border, then Norwegians "would take care of them," — but not necessarily in a good way.
Von Essen understood this statement to mean that there is far more illegal hunting of wolves in Norway than in Sweden.
Stronger opposition in rural areas
Swedes generally have more positive attitudes towards wolves than Norwegians, according to a survey conducted in both countries.
The picture changed, however, when the researchers asked this question of people who lived in areas with the greatest numbers of wolves. In this case, they found little difference in attitudes toward wolves in the two countries.
"We see a fairly similar pattern in Norway and Sweden," said the Swedish political scientist Camilla Sandström, from the Swedish University of Agricultural Sciences.
Whether people live in an urban or rural can affect their attitudes towards wolves, Sandström and her colleagues believe.
Here, there is a substantial difference between Sweden and Norway because just 9 per cent of the Swedish population lives in rural areas, compared to roughly 30 per cent of the Norwegian population.
"Urban populations tend to be more supportive of wolves. Many more Swedes live in urban areas and are therefore not affected by the conflict over wolves," Sandström said.
She says this means the polarization between opponents and supporters of wolves is even greater in Sweden than in Norway.
Regional politics rule
Ketil Skogen, a sociologist and researcher at the Norwegian Institute for Nature Research (NINA) says the conflict over wolves in Norway has a lot to do with control in rural areas.
The NINA researcher believes that the recent escalation in protests over wolf policy in Norway clearly illustrates the problem.
Protests erupted in late December 2016 when Climate and Environment Minister Vidar Helgesen did not support a decision by the Predator Management Board to cull up to 32 wolves in and outside a designated "wolf zone" in Hedmark County.
Skogen says that the reversal created a new alliance in Hedmark County, between the local working class and forest owners in the county. These two groups traditionally have not had a warm relationship.
"The problems related to wolf populations and the use of forest resources in the county have joined these two groups in a common destiny. Now they stand together in opposition to Oslo and to an academic, urban middle class," Skogen says.
Skogen points out that when a conflict has as complex causes as the conflict over wolf populations, it is extremely complicated to solve.
"Environment Minister Vidar Helgesen cannot stop urbanization or globalization. It is far outside of his mandate," Skogen observed.
Radicalized hunters join the ultra right
Swedes who live in the areas with the highest density of wolves—Varmland and Dalarna in central Sweden—are the most frustrated with government policy, von Essen says.
She believes this problem can only be solved if Swedes in rural areas are given more of a role in the management of large carnivores.
"We are known in Scandinavia for having great confidence in the authorities. It is disturbing when a part of the Scandinavian population loses that trust," she said.
Some hunters von Essen interviewed say they have voted for the extreme right party Sweden Democrats, in protest against the authorities.
Hans Peter Hansen, a researcher from the Department of Bioscience at Aarhus University, studies conflicts over large predators in Scandinavia and other parts of Europe. He agrees with von Essen that the conflict has the potential to undermine democratic principles.
"There is considerable acceptance for the wolf, even among hunters," he said. "The problem is that people who live in rural areas feel they are not being taken seriously."
-------------------------------------
Read the Norwegian version of this article at forskning.no
Related content