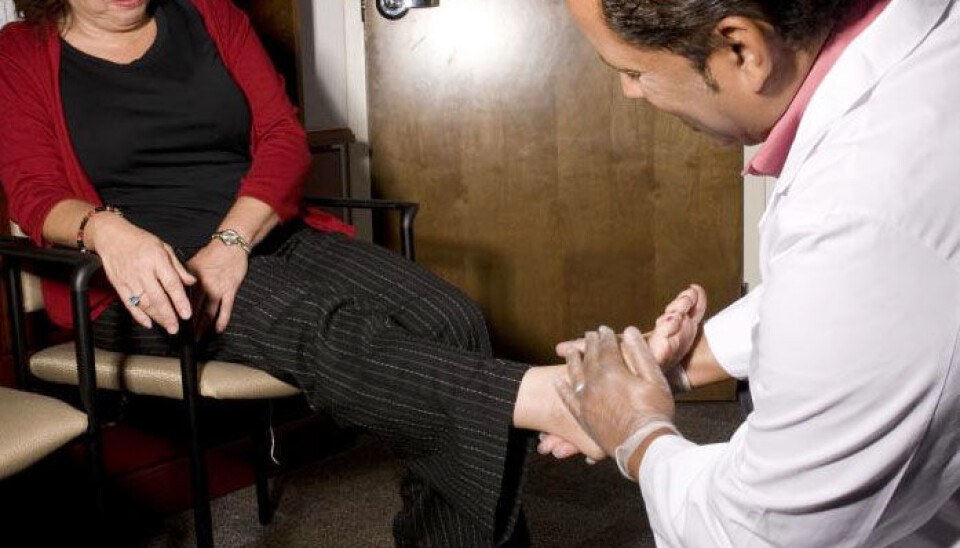 Cutting diabetics' amputations by half
Relatively simple interventions to treat diabetic foot sores can reduce amputations significantly, according to Swedish orthopaedists.
Foot and leg sores or ulcers among diabetics can become so serious that amputation is the only option.
Worldwide, someone loses a limb to amputation every 30 seconds due to complications from diabetes, according to the Sahlgrenska Academy in Gothenburg, Sweden.
Research from the Gothenburg-based institution shows, however, that shoes with specially fitted inserts, podiatry and regular check-ups can cut the need for amputations by half.
And of course any reduction in such sores and ulcers improves the quality of life for many diabetics.
"Prevention of diabetic sores not only reduces the suffering of individual patients, it entails huge savings for society," says Ulla Tang, a Sahlgrenska Academy researcher.
"A custom insert costs around SEK 850 to 1,450 [$130 - $220]. Healing a foot sore can cost an average of SEK 70,000 a year, while an amputation costs close to SEK 1 million," Tang says.
Finding the right measure
In Norway, 446 diabetics patients required amputation from the thigh, leg or foot in 2011, which is an increase of 100 patients compared to 2010, according to official figures.
Since 2008, the Swedish researchers have focused on finding the proper treatment for individual patients to protect their feet from heavy pressure and minimise the risk of sores on the soles of their feet.
"These approaches can cut amputations by half," the Sahlgrenska Academy researchers say.
They plan to present their results at a conference in India in February.
Annual check-ups
Norway's National Health Service has been criticised for not providing adequate check-ups for diabetics with foot ulcers.
Marjolein M. Iversen, a postdoc at Bergen University College, has pointed out that the country's primary health services do not focus enough on preventing diabetic sores or ulcers.
"Diabetes patients should be checked for foot ulcers at least once a year. In more severe cases of the disease, they should be checked every third month," Iversen wrote in her doctoral thesis.
New tool
The Sahlgrenska researchers will also launch a new digital tool at the February conference that makes it easier to evaluate a diabetic's risk of these kinds of ulcers or sores.
This should facilitate the prescription of custom-made inserts and for shoes, they say in a press release.
The Swedish study involved 114 Swedish diabetes patients with an average age of 58. Participants had had diabetes for an average of ten years.
Foot care is a must for diabetics, particularly for older patients who have had the disease for a long time.
Spreading the pressure effectively
The test patients tried out three different types of shoe inserts over the course of two years.
After one year only 0.9 percent had developed foot ulcers, whereas the share in comparable groups of diabetics was reported at 3-8 percent.
"Good shoes and inserts can halve the pressure on the feet," the researchers say.
"All three insert types that were used spread the pressure effectively beneath the soles of the feet and thus reduced the risk of sores," Tang is quoted as saying in the Sahlgrenska press release.
The study also showed that not all diabetics who need foot treatment are being offered it.
-------------------
Read the Norwegian version of this article at forskning.no
Translated by: Glenn Ostling
External links
Related content