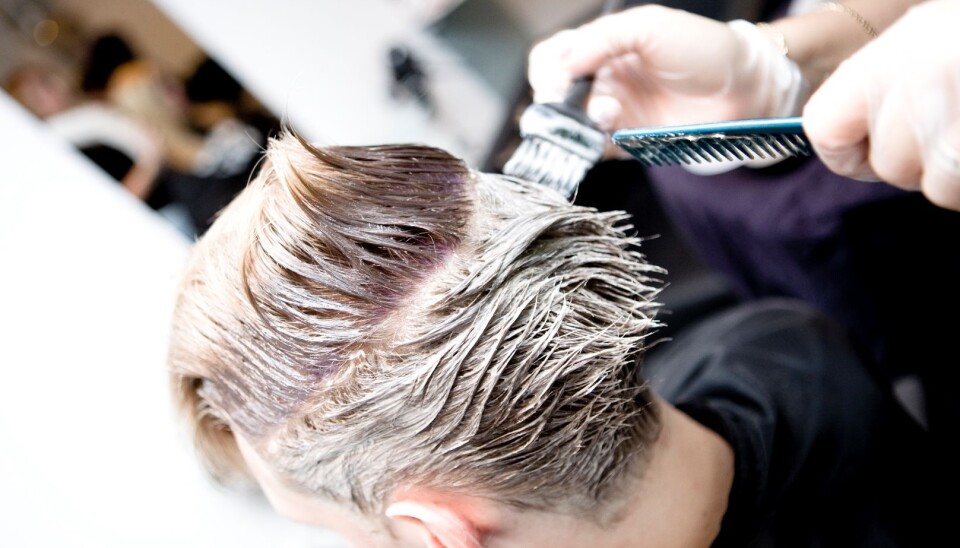 Hairdressers troubled by respiratory problems
Asthma, congestion, dry coughs and wheezing. These are just some of the symptoms which plague hair salon workers.
Dyes, bleaches and hairsprays saturate the air in a hair salon with chemicals. Customers breathe in some of this stylish smog, but employees breathe these chemicals day in and day out.
Studies have shown that coiffeurs assume a higher risk than the general public of developing various respiratory problems and allergies.
A new Swedish study looks into the way hair stylists tackle a workday tainted with health hazards.
Kerstin Kronholm Diab recently got her doctorate in medicine at Lund University with a dissertation on the health of hairdressers.
"Many have dreamed of becoming a hairdresser since they were children. If they contract afflictions they try to adapt in various ways, but that can be real hard to do," says Diab.
Some Swedish female hairdressers deal with symptoms when they get severe by using up some of their annual vacation time, rather than going on sick leave. Others use fans or face masks. But fans simply disperse the irritating chemicals throughout the premises and customers can be turned off by stylists in face masks, points out the Swedish medical researcher.
Diab asserts that the best solution is to ensure ample ventilation in the hair salon. This can be prohibitively expensive for self-employed persons with a small business, which is how most hair salons and barbershops in Sweden are organised. In neighbouring Norway, larger enterprises are more predominant in the hairdressing scene. This means more hairdressers are employees than in Sweden and thus have rights to paid sick leaves and the work environment is more likely to be actively regulated.
Lower quality
The PhD study comprised four investigations stretching from 1996 to 2011. The newest consisted of interviews with 14 hairdressers about their perceptions of their work environments.
In another study, from 2004-05, Diab looked int the health of 36 hairdressers immediately after they had taken a two-week holiday and then again a month later, while they were working in the hair salons.
Among the ones who suffered from the chemicals in bleaches, life quality had plunged just four weeks after vacations.
The life quality of those who were not plagued by work-related respiratory problems actually picked up a month after vacation as compared to immediately after returning to work.
"The hairdressers were quite happy with their jobs in a number of ways. They enjoyed the contact with their customers and colleagues and appreciated the way their trade was free and creative. This is also why those who struggle with respiratory problems really want to stay in the trade," says Diab.
Greener hair solutions
"These are problems I recognise after working many years as a hairdresser," says Lisa Andreassen, general manager of the International Hair Academy in Tromsø, Norway.
"But my impression is that things have become better in recent years. The products have been vastly improved and regulations stipulate the need for strong ventilation to remove the chemicals."
The Labour Inspection in Norway stresses the necessity of ventilation and use of milder products in the hairdressing business. In 2010-2011 the authorities found that 35 percent of the salons they controlled lacked ventilation where chemicals were mixed and 20 percent of the salons had no ventilation at all.
However, many salons in Norway have recently entered a scheme called Grønn Frisør [Green Hairdresser], developed by the Norwegian Union of Municipal and General Employees and its Union of Hairdressers. Salons that meet the green standards use products without hazardous chemical substances.
But it isn't easy to develop hair products that are gentle on the respiratory system, according to Swedish researcher Kerstin Kronholm Diab. Determining which chemical ingredients are harmful is not always easy and physical reactions can be individual.
Learning to take care
Andreassen thinks hairdressers can dodge much of the respiratory problems by taking certain precautions.
"You can't be slipshod. Takes care to use a ventilator hose that can be moved around where you work. You should always use gloves because many substances can be absorbed," she says.
At the International Hair Academy in Tromsø the students are taught to take care of their respiratory system.
"When the students start their careers they are conscious about this – probably more aware than those who have been working for years," says Andreassen.
------------
Read the Norwegian version of this article at forskning.no
Translated by: Glenn Ostling
Scientific links
External links