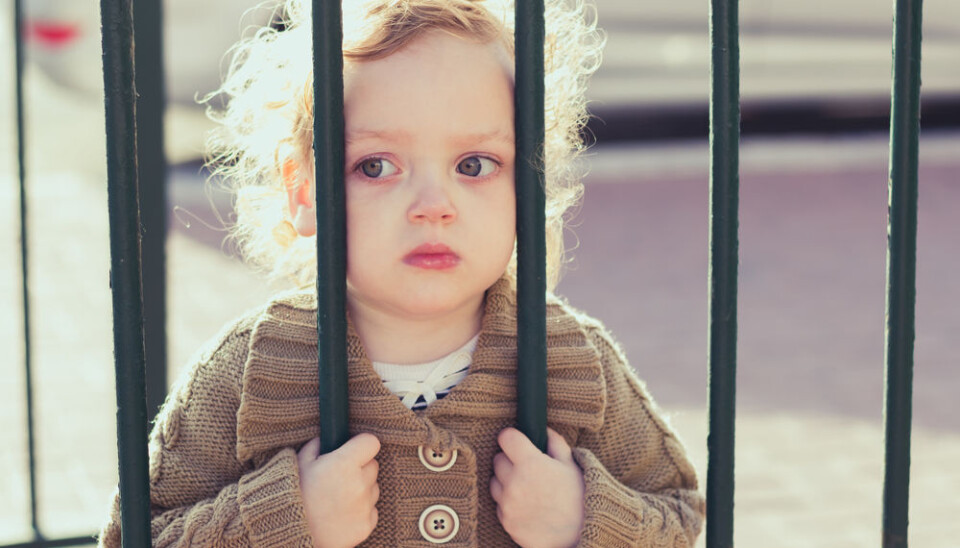 ADHD and autism can be detected much earlier than previously thought
Children with ADHD or autism display symptoms even before they turn two years old, reveals new study. Scientists believe they can use the knowledge to treat children more effectively.
Most children with ADHD and autism aren't diagnosed before they begin in school because their symptoms don't visibly manifest until that age.
At least, that was the common belief.
Ph.D. student Sanne Lemcke Department of Clinical Medicine at Aarhus University and the Psychiatric Hospital for Children and Adolescents in Aarhus, has recently completed her thesis on children with developmental disorders. She discovered how some children diagnosed with ADHD or autism began to display symptoms already shortly after they were born.

"We've documented that some children with ADHD and autism display symptoms even before the age of two," she said. "That's a very important find as it can help us identify them [children with the disorders] sooner and treat them more effectively."
Tell-tale signs in children with ADHD and autism
Lemcke says children with ADHD or autism display certain characteristics and behaviour more often than other children:
Sanne Lemcke's PhD thesis is based on interviews with around 76,000 mothers carried out as part of the extensive study "Better health for mother and child" from 1997-2002.
The mothers were interviewed about their children's development and behaviour six to eighteen months after they had given birth. Today the children are 11 to 16 years old and almost 3,000 of them have been diagnosed with either ADHD or autism.
By talking to the mothers of these children Lemcke has identified distinctive features that characterise the behaviour of children with developmental disorders.
Their motor development is deviant. For instance they start walking much later than other children.

They may have certain cognitive problems. For instance, they might turn a book upside down while looking through it, and they draw less than other children.

They are more active than other children. (This only applies to children diagnosed with ADHD.)

They are less active than other children. (This only applies to children diagnosed with autism and ADD, i.e. those who have an attention deficit disorder without being hyperactive.)

They have a smaller vocabulary than other children.

Parents of children with ADHD or autism often suspect their children might have impaired hearing. This is most likely due to the fact that the children have a tendency to be inattentive and absent-minded.

They aren't breastfed as long or as frequently as other children.
Earlier treatment offers children a better life
Most children with developmental disorders are diagnosed after they begin in school. According to Lemcke, some of the problems that these children encounter in school and in family life could be diminished by early treatment.
"Children with autism find it harder to understand social interaction, and because of this they need training in how to participate in social situations," she says.
She said children with ADHD often develop low self-esteem because they're often told off for something that in reality is beyond their control.
ADHD (Attention Deficit/Hyperactivity Disorder) is a neuropsychiatric disorder.
The disorder is found in 2-5 per cent of all children.
Autism is a neuropsychiatric disorder characterised by the key symptom that the child finds social interaction difficult and has problems with empathy. Nearly one percent of the Danish population suffers from autism.
"An early diagnosis of the child can help make their surroundings react more appropriately, and that will have a positive effect on the children's development," says Lemcke.
Frustrated parents are ignored
While working on her thesis, Lemcke worked as a nurse in the Psychiatric Hospital for Children and Adolescents in Aarhus. She often met parents who suspected that something was not quite right with their two or three year old child.
"We regularly encounter frustrated parents who suspect that there's something wrong with their child," says Lemcke, adding that several international studies have shown that there can sometimes pass several years between the parents initial concern and a diagnosis.
Lemcke has a suggestion to how the system can take better care of the difficulties that both children and parents encounter.
"We should aim to spot these children in the nurseries and day care centres. Another approach could be to use the regular visits to a general practitioner that all parents are invited to take their children to [in Denmark]," she says. "If the children then display characteristics of a developmental disorder they could for instance be referred to a child psychiatrist."
Early screening could result in wrong diagnoses
Professor of psychiatry Niels Bilenberg was present when Lemcke defended her PhD thesis. In his opinion the study is solid and he agrees that the results can be used in future.
"There's no doubt that these children display symptoms before the age of two," he said. "The study increases our awareness of what symptoms to look for when screening children of that age."
Bilenberg is a professor at the University of Southern Denmark and head of research in Child and Adolescent Psychiatry in the Region of Southern Denmark.
However, he does points out that it can be problematic to screen and diagnose children so early, as no screening test is completely reliable. A wrong result could have grave consequences for both the family and the individual child.
"It's hard for parents to discover their child has a developmental disorder. So we would risk subjecting people to unnecessary worry and agony if we diagnose children who actually have no disorders," he says.
The opposite holds true as well. Some children might be tested negative, even though they have a developmental disorder. In such cases their ADHD or autism would be discovered much later than it is now.
"It's always a judgement call," says Bilenberg.
One thing was certain though. If we don't do something to look and screen for the children with developmental disorders they won't be found.
"And then they won't receive help," says Bilenberg.
------------
Read the original story in Danish on Videnskab.dk
Translated by: Iben Gøtzsche Thiele
External links
Related content